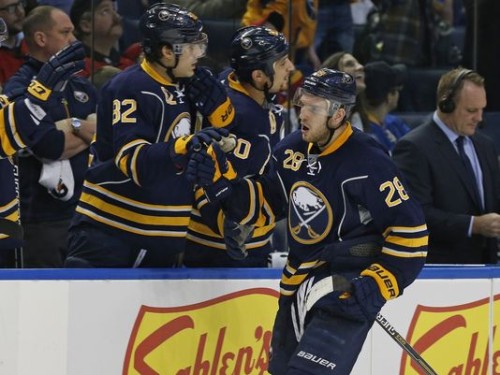 Zemgus Girgensons is a superhero. The 21-year-old Sabres forward exemplifies what his home country of Latvia is all about, and the people of Latvia look up to him.
"Zemgus is a player that works hard all the time, on and off the ice, which sort of describes what we Latvians are all about," said Aivis Kalnins, a Latvian writer who covers the KHL and the Sabres for Last Word on Sports, an international sports site. "The thing with him is, Zemgus is our only player in the NHL, which obviously draws all the attention to him."
Indeed it has. In an outpouring of votes, the majority of which came from Latvia, Girgensons received 1,574,896 votes, more than any other NHL player. Kalnins explained that the All-Star campaign was planned, and while Girgensons may not be the best player in the NHL, he is undoubtedly the best player from Latvia.
"All-Star voting was something people were planning for quite a while," Kalnins said. "Media campaigns like videos on YouTube, Twitter, and our sports news site sportacentrs.com were the places we planned everything step by step. We see him as an all-star player because he is the one and only Latvian who plays in the NHL right now, which obviously makes him a star. He is not [Sidney] Crosby, but he is our star."
While some American and Canadian hockey fans are annoyed, frustrated, even angry about the amount of votes given to Girgensons, Kalnins says there is nothing surprising about it. Latvians love hockey, so it only makes sense that the country would join together to support Girgensons in this way.
"Hockey is our number one sport in the country," Kalnins said. "We are the world's craziest and probably the loudest fans. Nothing surprising about it at all."
For many, it goes beyond hockey. Girgensons' success has caused Latvia to be noticed by other countries around the world. Latvia has demanded to be taken seriously with its support for Zemgus, and his talent and success only helps.
"He is our superhero," Kalnins said. "And the way he is playing makes other nations notice us globally, which is a good thing. There are haters, but even those who dislike him quietly adore him. He is someone we can look up to."
Other Latvians have latched onto the success of Zemgus and have not only shown support but also gained some attention for themselves. An example many were made aware of this past week was a rap song by a group called Olas simply titled "Zemgus Girgensons."
Kalnins explained that the video talks about things that Latvia would like to have and uses Girgensons as an example because he had become so popular worldwide. Kalnins is not a fan of the video.
"The rap was made to point out the things that Latvia would like to have, and since Zemgus is a popular topic worldwide, it was sort of a way to bring attention to that exact artist, and I really do not like it at all," he said. "Yes it is a joke, but I take things like these seriously."
There's no denying that the song is catchy though.
And there's no denying that Zemgus Girgensons has inspired his home country. They're a hardworking people who fight for what they have support their own with a fierce loyalty.
And nothing will stop them.
"We will rise, fall, and stand up again," Kalnins said.