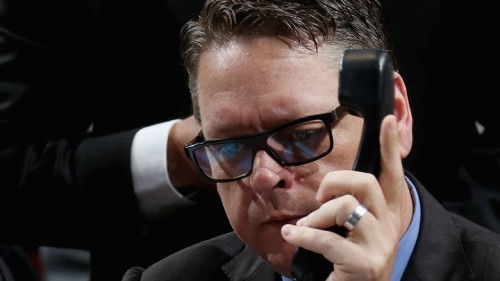 Buffalo Sabres GM Tim Murray has an improbable task in front of him. He has to rebuild a team that finished with the worst record in the NHL last season. He wanted to bring in some veteran leadership to help the younger players on the team. Murray also was $20 million under the salary cap floor, so he needed to spend a lot of money. And spend he did.
After buying out Christian Ehrhoff, Murray traded for D Josh Gorges of the Montreal Canadiens for a 2nd rd pick. Many viewed the 29 year old as the heart and soul of the Canadiens defense. Last season, he had 1 goal and 13 assists and served as the alternate captain.
Joining Gorges from Montreal is F Brian Gionta who signed a 3 yr/$12.75 million contract. Gionta was the Canadiens captain last season. Gionta is a Rochester, NY native so this will be sort of a homecoming for him. Between Gorges and Gionta, the Sabres should have 2 solid leaders in their locker room.
Matt Moulson had played with the Sabres earlier in the season before he was traded for Thomas Vanek. Moulson decided to come back to Buffalo for 5 yr/$25 million. This will make him the highest paid forward on the team. He will have to show that he can score 25-30 goals a year while being able to guide the younger players. In his career, Moulson has scored 30 or more goals on 3 occasions.
In 2 smaller moves, the Sabres re-signed F Cody McCormick (3yr/$4.5 million) and F Marcus Foligno (2 yr/$3.75 million.) McCormick is a hard-working player but will most likely find his way to the 4th line.
Foligno is still trying to find his role in the NHL. He is younger version of McCormick. In 3 seasons with Buffalo, he has 18 goals and 32 assists in 135 games. Look for him to be another player on either the 3rd or 4th line. Foligno also played for the Canadian Junior team back in 2010-2011.
So, who wouldn't want to add a 3-time Olmypian to their team? The Sabres did just that in signing Andrej Meszaros. He has a 1 yr contract worth $4.125 million. He will be another key piece in helping the Sabres turn-around.
This may be the most active any Sabres GM has ever been in franchise history. Murray did a great job signing veteran free-agents. It is going to take a few years for a turn-around but the pieces could be in place for a future playoff run.