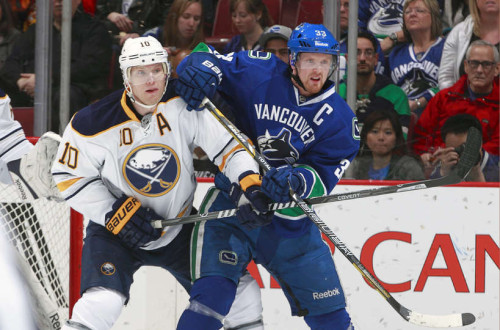 Christian Ehrhoff has certainly traveled a bit in his career. He was drafted by the San Jose Sharks in the 2001 NHL Entry Draft. He then helped the Vancouver Canucks reach the Stanley Cup Final. Now, in a stunning move, the Buffalo Sabres have bought out defenseman Christian Ehrhoff, making the veteran a free agent. Ehrhoff had 7 years left on his 10 yr/$40 million contract. His cap hit per season would have only been $4 million.
Not only did the Sabres struggle this season, Ehrhoff did as well. Although he led Sabres defensemen with 33 points, (6 g, 27 a) he had a career worst -27 rating. In his 3 seasons with the Sabres, he averaged over 23 minutes of ice-time, making him someone who can eat a lot of minutes. Ehrhoff had 87 points while in Buffalo and never made the playoffs.
What does GM Tim Murray have in store for the Sabres? With the Ehrhoff buyout, Tyler Myers is now the highest paid player heading into free agency. While Myers is only 24 years old, he is not even close to the player he was when he won the Calder Trophy as the league's top rookie. Myers will now have to be the leader on the blueline and return to being a top defenseman.
The Sabres are now close to $20 million below the cap floor. Tyler Ennis and Cory Conacher are the top restricted free agents the Sabres have. It will be hard to attract any top free agents as this team is in a MAJOR rebuild. It looks as though Murray will have to overspend on players in free agency and play a lot of younger players in the Sabres system.