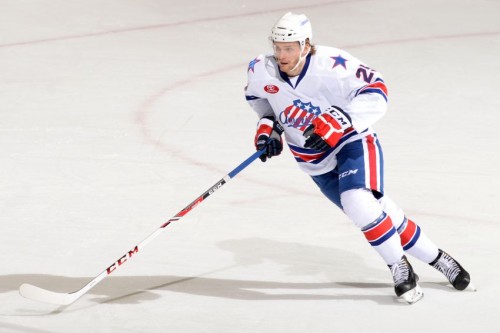 It was a tough season for the Buffalo Sabres. Worst record in the league, no playoffs, and didn't even win the NHL Draft Lottery. On the bright side, their AHL affiliate Rochester Americans, had a late season surge and made the playoffs. Some players who played with Buffalo, are now in the playoffs in Rochester.
Chad Ruhwedal is enjoying a good playoffs so far. In 2 games, he has 2 goals and 2 assists and is leading the Amerks in scoring. He played in 47 games in Rochester this season, scoring 28 points. He also played in 21 games with the Sabres. He is a good skater and is a good 2-way player.
Ahh Luke Adam. I remember a few years ago when he was leading the Sabres in scoring through the first few weeks. Since then, he has struggled to stay up with the Sabres. While he had a great year with the Amerks this season (29g-20a-49 pts), he needs to show that he can stay with the big club.
Mikhail Grigorenko was the Sabres 1st rd pick in the 2012 NHL Draft. He has scored a lot of goals in Juniors but that has not translated to success in the NHL. He has been known to be lazy, and not a hard-worker. He is only 19 years old so he still has time to change his game.
Rasmus Ristolainen played exactly 34 games each in the AHL and NHL this season. While a lot of his games in the NHL were with GM Darcy Regier in charge (he wanted the younger guys to just play), he may not be ready to their yet. His size, skating ability and all-around play make him an intriguing prospect. He will need some seasoning in the AHL before he makes the move to full-time NHL status.
Hopefully the Amerks can make a deep run in the 2014 Calder Cup Playoffs. It will give all the younger guys to gel together as they all hope to be full-time NHL players. Buffalo needs to find its next nucleus of players since they have traded away their last "core" of players.