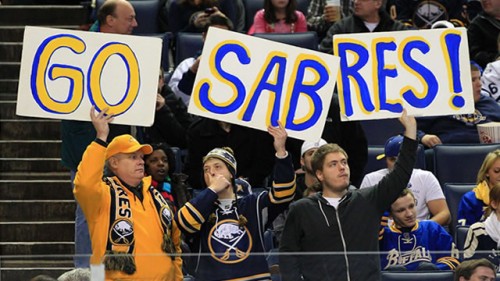 The Buffalo Sabres endured one of the worst seasons in franchise history. They finished with the worst record in the league and scored the fewest goals. You could argue things could not get much worse.
If you're a fan, you couldn't be more wrong.
The Sabres recently announced that season tickets prices will increase slightly this season. Ticket prices will roughly increase by four percent. The Sabres have not made it easy on their fans the last few seasons.
They haven't made the playoffs since the 2010-11 season. Management has traded away Ryan Miller, Jason Pominville, Thomas Vanek, amongst others to try and rebuild from scratch. Cody Hodgson and Tyler Ennis were the top scorers on this year's team, with neither breaking the 50 point barrier.
Like all teams, Buffalo is going to have to develop their prospects in order to achieve success. It will be very difficult for the team to attract big name free agents. Some big name free agents include Paul Stastny, Jarome Iginla, and Marian Gaborik. In reality, none of them will be looking to be part of a re-build although you can never say never when money is involved.
As much as Buffalonians love their hockey, there were times last season where the First Niagara Center had some empty seats in it. On the secondary market, upper level tickets could be had for $15-18 each. What I would love to see in the near future is for the team to be just as good or if not better than the Sabres teams right after the 2004-05 lockout. Those Sabres teams went to back to back Eastern Conference Finals. There was a lot of excitement not only in the rink, but in the city as well.
So pay up Sabres fans. A few extra dollars spent might hurt the wallet this year. However, hopefully the on ice product will turn around… eventually.