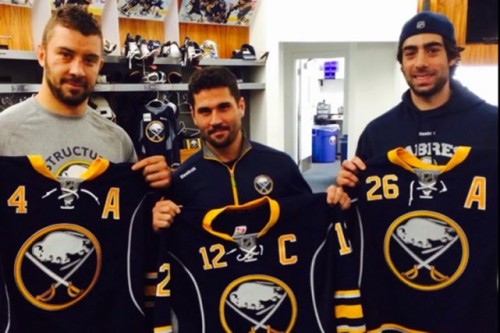 As Brian Gionta, Matt Moulson, and Josh Gorges pulled their lettered jerseys over their heads, head coach Ted Nolan said, "This is our leadership group going forward." Gionta will wear the C for the Sabres while Moulson and Gorges will serve as alternate captains.
Gionta was no surprise to anyone, having served as captain of the Montreal Canadiens last year before bringing his quiet leadership style to Buffalo.
"I betcha didn't see that one coming," Nolan joked in a press conference after the announcement was made. "It was just one of those real obvious choices when Brian signed here in the offseason, and we also know about Gionta's leadership."
Gionta was chosen as captain without having played a single regular season game with Buffalo. He believes it's symbolic of the Sabres' fresh outlook.
"Put the past behind us," Gionta said in today's press conference. "Have that fresh start. Have that optimistic outlook. There's been no feeling sorry for yourself. No one's been down on themselves for the way they finished last year."
Gionta will continue do what he's always done and be who he's always been in his role as captain.
"You don't stray from what you are, the person you are, the character you are," Gionta said. "It's not for show. You come in and you go about your business."
And he's doing what he can to get to know his teammates.
"There's nothing you can do to make yourself more comfortable with the guys except spend time together and get to know each other," Gionta said.
Josh Gorges is honored to be named an alternate captain, especially as another new addition to the team.
"It's a great honor," he said at today's press conference. "I think any time you get recognized on any team, it's special. For me, being a new guy coming in and being recognized by the coaches, players, teammates, it's a good feeling. And there's a lot of responsibility that comes with it, but I'm looking forward to the challenge."
Gorges may be a bit more vocal than Gionta, but he'll be sure to be himself.
"The biggest thing is you stay true to yourself. You don't try to do something that's out of character," he said. "I say it like I see it. I've got no problem talking with guys. In some situations, things need to be said, and I don't have a problem being that guy."
Matt Moulson will also wear an A for the Sabres, but he had some competition, according to Nolan.
"The third one was probably the most difficult," Nolan said. He mentioned Tyler Myers, Chris Stewart, and Drew Stafford as other players who have really stepped up as leaders, and he stated that "the support staff behind [Gionta, Gorges, and Moulson] is going to be just as important."
But Moulson's decision to return to Buffalo ultimately earned him the honor.
"He could have chosen to go anywhere, but he chose here," Nolan said. "And to me that demonstrated great leadership qualities, that he really wants to be here."
Moulson smiled through the entire press conference. He's excited not just about the honor but about the security that it brings for him and his family.
"It's good to know that hopefully I won't be on three teams again this year," he said. "It's good to feel that comfort and have a home to live in for your family."
As for the A, Moulson said it won't change how he does things.
"It's just something that brings another responsibility to my game," he said. "I don't think wearing a letter changes how you act. I try to lead by example and work hard and go about my business and communicate with the guys. If you need to talk to someone, you should always be comfortable being able to do that."
Moulson also mentioned that there were others deserving of the honor, and that everything will be a total team effort.
"It's a group. It's not just any one person," he said.
Both Gionta and Moulson know that every honor and every win and every ounce of respect has to be earned.
"The way you get respect is you earn it," Gionta said simply.
"When you have people all around you on this team that believe that you should earn everything, you get along pretty well," Moulson said.