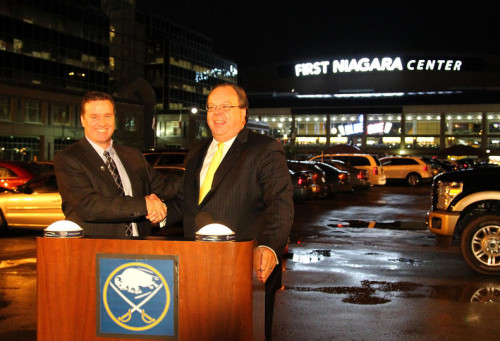 Funny things happen when you build a twin rink complex. Buffalo Sabres Terry Pegula, who is investing over $100 million into the Harborcenter will be hosting the 2015 and 2016 NHL Draft Combine. This is exciting news for the Sabres and hockey fans of the area.
The Harborcenter will be a twin-rink complex with restaurants, hotel and other shops. The main rink will have seating for about 2,000 people. The smaller rink will be able to hold a few hundred. While currently there is no on ice testing for prospects, that may change down the road. In addition, Buffalo may continue hosting after these two years.
Colin Campbell, NHL senior vice president of operations said that Buffalo was "heads and toes above everybody else in being able to host the combine".
Sabres president Ted Black confirmed a few other items that the Sabres are working on. They would like to host the 2016 NHL Draft. The last one they hosted was the 1998 draft where Vincent Lecavalier was the 1st overall pick. With the success of the 2011 World Junior Championships, Buffalo would like to bid on the 2018 games.
In addition, the Sabres are also interested in hosting an NHL All-Star Game, something the city hasn't seen since 1978. Sabres captain Gilbert Perreault scored the OT winner.
With this new rink complex, the Sabres and the city of Buffalo will be able to do some great things. Hopefully it will also include a Stanley Cup Championship.
Love Reading About Hockey?

Subscribe to keep up-to-date with the latest and most interesting hockey news!
| | |
| --- | --- |
| | We hate spam just as much as you |