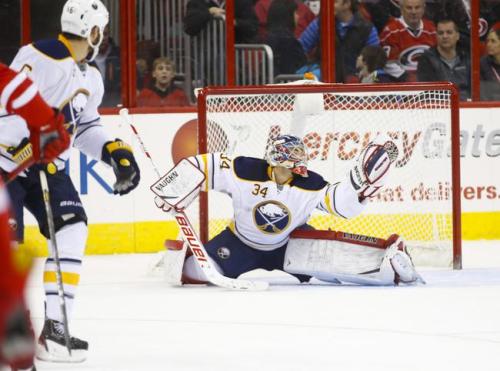 The Sabres take on a team tonight with just one more win than they've accumulated so far – the Edmonton Oilers. The Oilers are 4-8-1 while the Sabres are 3-9-2. Tomorrow's match-up is a different story, as the Sabres host the Pittsburgh Penguins, a team that beat them 5-0 last Saturday and seems to have had the Sabres' number both last year and this year.
Let's start with the Oilers. Michal Neuvirth is in net, although Ted Nolan said yesterday that Jhonas Enroth would start.
"Just to confuse the other team," Nolan joked after this morning's practice.
Andre Benoit is in on defense after being a healthy scratch the last two games. He doesn't have a point yet this season and has a minus-9 rating in the 12 games he's played. Tyson Strachan, with his three assists and +/- of zero, is out.
Although the Oilers' record is only slightly better than the Sabres', it won't be an easy win by any means. The Oilers have scored 32 goals as a team this season, while the Sabres have scored just 15. Taylor Hall leads Edmonton with six goals and four assists. For the Sabres, Tyler Ennis leads the team with his four goals and three assists.
But things are looking up for Buffalo. Chris Stewart scored his first goal of the season on Sunday. Drew Stafford scored his first goal last week and scored another on Wednesday. He's tied with Ennis for the team lead in points with seven. Other players, including Brian Gionta and Matt Moulson, still need to break out, and tonight's game might be the perfect time to do that.
The Oilers have allowed 47 goals against this year, worst in the NHL. The Sabres are only slightly better, having allowed 44 goals against.
Buffalo has some recent positives to bring into tonight's game and build off of. The Sabres are coming off of a 2-1 shootout loss to the Montreal Canadiens on Wednesday, a game that should build some confidence despite the loss. The lack of effort that Nolan was frustrated with at the beginning of the year is becoming less of a problem. The way the Sabres would seem to give up after falling behind earlier in the season also seems to be a thing of the past. Chemistry is building among the team as they're getting more and more used to playing together.
In tonight's game against the Oilers, the Sabres will look to put all of those things together, along with a few goals and the continued strong goaltending of Neuvirth, and turn them into a win.
The Sabres won't much time to regroup before hosting Pittsburgh tomorrow night. The win the Sabres are hoping for tonight would give them some momentum to carry into tomorrow's game. Jhonas Enroth will most likely start in net. Although he has one win while Neuvirth has two, Enroth has been just as valuable. Both goalies have struggled from lack of support. Marcus Foligno, who has been out since jamming his shoulder in last Saturday's game in Pittsburgh, could return tomorrow.
Tomorrow's game won't be an easy one by any means; nothing seems easy for the Sabres lately. But it will be a weekend of competitive hockey. That's what we came for, right?