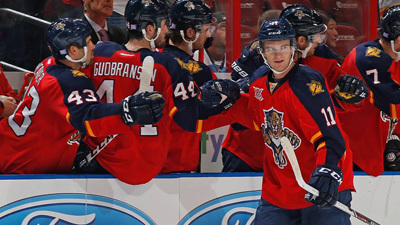 blue·print
(ˈblo͞oˌprint/) noun
a design plan or other technical drawing.
This is a very, very familiar word in the lexicon of the Panther faithful; even before I knew what icing was, this disyllabic greeted me whenever I stepped foot into the (former) Bank Atlantic Center. Surrounded by my JV high school soccer teammates, our coach treated us to a Panthers' game back in 2011; everywhere we looked, my teammates and I were bombarded by that simple word. Jumbotron (WE GOT ON THERE THREE TIMES YO), that electronic banner that lines the circumference of the stadium, you name it-wherever we glanced, we were constantly reminded of this newfangled BLUEPRINT FOR SUCCESS.
We lost that game in OT, 3-2, to the Columbus Blue Jackets, after blowing a one goal lead in the game's final minute.
Mired in the swamp (literally and figuratively) for the better part of its existence, our Sunrise-based hockey club has been caught in limbo, somewhere in between relevance and total anonymity. A history of botched draft picks and poor performances scars its history, hindering a promising club from ascending the ranks and fulfilling its long-untapped potential. It's been a perfect sh*tstorm of poor showings, poor management and poor ownership. With the hiring of Chicago Blackhawks' Senior Advisor Dale Tallon on May 17, 2010, the Cats hoped to usher in a new era, one in which the squad would finally claw itself out of mediocrity's shadow.
Five seasons, one playoff appearance and four lottery picks later, the team continues to search for sustained success. Tallon's team, however, has finally settled down, established an identity; there is a distinct model in place, aiming to usher in that golden age this club has desperately needed. Amid some questionable decisions, the former Blackhawks' architect has stockpiled an impressive array of blue-chip prospects and value late-rounders, all the while supplementing the big league roster with free agents in order to populate spots while the kids mature. This season may very well prove to be a breakout campaign for the Cats; featuring a mix of wily veterans and green youth, this campaign's edition of the Florida Panthers is, arguably, the most talented one to lace up its skates in quite some time. The question, however, remains-has the blueprint worked?
Having worked for the Blackhawks since 1998, Dale Tallon was promoted to the position of GM in the summer of 2005; inheriting a tattered roster than scrounged 20 wins over the course of the 2003-04 campaign, the former Assistant GM set out to better his barren squad. Signing Stanley Cup winning netminder Nikolai Khabibulin and All-Star blueliner Adrian Aucoin, among others, the 05-06 campaign proved almost as futile; managing six more wins, the 'Hawks finished with the third-least points in the League. Khabibulin was shelled in net, compiling an .886 save percentage in his first 50 games wearing Blackhawk red, and the team suffered. There was, though, a silver lining to that bullet of a season-with the third overall selection, Tallon snagged a young college centerman by the name of Jonathan Toews. Following a 31-win follow-up campaign, Tallon snagged Patrick Kane; effectively laying the cornerstones of his franchise, Tallon bolstered the team, adding puck-moving d-man Brian Campbell and scoring forward Patrick Sharp into the fold, along with Kris Versteeg and Martin Havlat. The team continued its upward trend, streaking to the Western Conference Finals in 2009 before winning it all in 2010 (though he was demoted from his GM position in the wake of a qualifying offer debacle with the NHLPA, the winning roster was, for all intents and purposes, Tallon's brainchild).
One important aspect to note was the Blackhawk's consistent upward trend; the 'Hawks showed signs of improvement in each season under Tallon's watchful eye, culminating in a 2010 cup win. Examining Tallon's roster, we find a preponderance of big, skilled centermen (Toews, Sharp, Dave Bolland), scoring depth on the wings (Kane, Versteeg, Marian Hossa, Tomas Kopecky), a balanced defensive core (Campbell, Dustin Byfuglien, Duncan Keith, Brent Seabrook, Niklas Hjalmarsson) and solid, dependable goaltending in the form of Antti Niemi and Cristobal Huet.
Moving on to his tenure with the Florida Panthers, things haven't gone as smoothly for our roster architect, at least in terms of results; following a firesale 2010 that saw the departures of Nathan Horton and Keith Ballard, Tallon hoarded three first-round picks, using them to select Erik Gudbranson, Nick Bjugstad and Quinton Howden. In spite of a flood of additions, the team regressed, earning two fewer wins (decreasing from 32 to 30) and finishing fifth in the southeast. In the wake of the free-agent splurge of 2011, the Panthers found themselves in the postseason for the first time on over a decade; following a 38-26-18, the Cats won the division for the first time in club history, pushing the eventual Eastern Conference champion New Jersey Devils to the brink of elimination before bowing out in double-OT of Game Seven (I was there, too. Goddamn that Adam Henrique). And then, things somehow managed to get worse again; the team regressed to its' 2010-11 form, getting bullied on the ice and compiling a measly 44 wins in 130 contests between the lockout-shortened 2012-13 season and last year's effort.
In light of all this, is it safe to say that this experiment has majestically failed, as some around Pantherland have suggested? I wouldn't go so far as to say that; I don't think it's prudent to go about calling for the man's sacking. Yes, we hired a man to recreate what he built at another club, but we've got to realize that these are two very distinct situations. Chicago, a major sports market, afforded Tallon the immediate opportunity to go out there and sign top-flight talent; up until the team's sale this past season, Dale hasn't had that luxury in sunny South Florida. A small market squad previously run by budget conscious owners, Tallon hadn't a choice other than the bargain bin when it came to free agency. Draft history presents a whole new dilemma-how often can a team hit gold in two consecutive years, drafting two studs who would go on to prove themselves as elite-caliber talent? We're still searching for our Kane and Toews, our Keith and Seabrook; though we're making strides, we've got a ways to go.
What Tallon has done, though, is mold the roster into a prototype, what he wants to see from his ideal squad; headlined by big, skilled pivots in Nick Bjugstad and Aleksander Barkov, the team is finally coming close to emulating a key aspect of the modern championship squad-size and skill up the middle. With the emergence of Vince Trocheck and the signing of Dave Bolland, the center-position on the depth chart bears names that can finally provide that offensive spark the team desperately lacked in recent years, while bringing a semblance of defensive responsibility. Though solidified somewhat in terms of depth, our current group of wingers lacks that top-flight sniper, that four-line scoring depth. Ideally, Brandon Pirri-shifted from center to wing-could provide that scoring streak, and if Jonathan Huberdeau rediscovers his freshman form, the top-six attack may finally have a focal point of attack. Big bodies populate a balanced defensive core still looking to come into its own-superprospect Aaron Ekblad and the well-traveled Willy Mitchell add further depth and skill. If Dmitry Kulikov and Erik Gudbranson continue to make strides in their development, the unit as a whole could experience a renaissance. And with Roberto Luongo and Al Montoya providing long-needed skill and stability in the back, team defense may finally convert from a glaring weakness to a strength of sorts.
Is the blueprint working? In my opinion, yes-good things just come to those who wait.