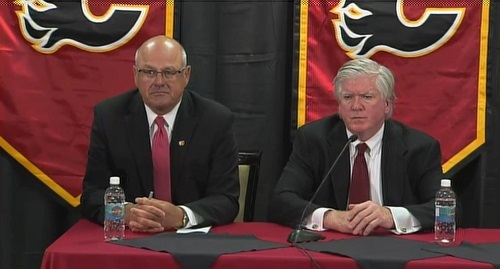 Brian Burke is back at it again. He was officially introduced as the new President of Hockey Operations for the Calgary Flames today at a noon press conference.
"I don't intend to be the spokesperson for the team. I intend to have a background role. I'm not the general manager of the Calgary Flames. Jay Feaster is. It's my pleasure and honour to be able to work with him."
Burke takes the helm at an organization that has seen everything it does go into a tailspin recently. It is believed Burke is being brought in to be a second opinion to that of Flames' General Manager Jay Feaster. Some believe that Feaster is to blame for the team's recent struggles. His disbelievers have been smoking at the ears ever since the trade of the team's last captain, Jarome Iginla, whom many feel Feaster should have received a better return for.
Burke himself can be said to have helped the Flames downfall after pulling the trigger on arguable one of the best trades in recent memory when he got Dion Phaneuf to come to Toronto when Burke was general manager of the Maple Leafs. Phaneuf is now Toronto's captain and best defenseman. He was also invited to Team Canada's olympic orientation camp. The only component of the deal that still plays for Calgary is Matt Stajan, who is a second or third line center on his best day.
"Trying to think of a diplomatic way to say this, but I'm not a diplomatic guy. There was a lot of work that needed to be done in Toronto that took longer than I thought. I think Jay has already taken some major steps to rebuild. I think Calgary had the best draft of anybody.

I have seen Abbotsford play, and I do think help is on the way."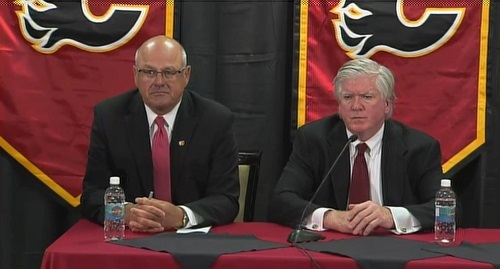 Burke is now also going to bring an added element to the fiery battle of Alberta. What began with Burke plucking Chris Pronger from the Edmonton Oilers led to then Oilers' General Manager Kevin Lowe firing back by signing then-Ducks' Dustin Penner to a contract despite still being a restricted free agent with Anaheim. Burke then ripped Lowe and Oilers management in the media, and there is still believed to be tension between Burke and Oilers brass to this day.
"I know people think I have to be driving the bus, but I'm actually a pretty good teammate too."
Burke was a part-time scout with the Anaheim Ducks last season after being dismissed by the Toronto Maple Leafs in January. He won the Stanley Cup with the Ducks in the 2006-07 season.