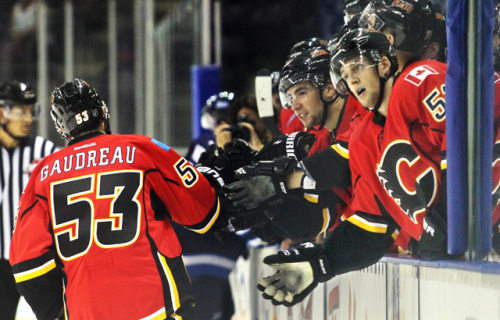 The 2013-14 season wasn't too kind to the Calgary Flames. They got out to a hot start, but things fizzled quickly thereafter and the Flames soon found themselves slipping in the standings en route to a battle for the top lottery pick.
Last season's finish: 6th place, Pacific Division
Record: 35-40-7
Leading scorer: Jiri Hudler, 54 points
2013-14 recap: Things started off pretty well for a Calgary team that was entering a rebuilding period and expecting some hiccups. They picked up eight of a possible 10 points in their first five games, going 3-0-2.
But then reality set in and the Flames won just two of their final seven games in the month, signalling a change in the team's fate. From that point on losing streaks were commonplace – especially at home where they lost seven straight between Dec. 27 and Jan. 16.
As far as offence goes the Flames were one of the worst teams: barely eclipsing the 200 goal mark, their 2.46 goals per game were 23rd in the league. To give some perspective, Captain Mark Giordano, who missed 18 games, finished second in team scoring with 47 points.
Things weren't much better on defense, either, as the Flames were also one of the worst teams in terms of goals against. They allowed 238 goals (2.90 average per game), which ranked 24th in the league. With no real number one in net – Karri Ramo, Reto Berra, Joey MacDonald and Joni Ortio all saw time in goal – it shouldn't have come as a shock to see such poor GA numbers.
So, as the Flames dropped their final game of the season 5-1 to the Vancouver Canucks April 10, attention turned to improving the roster. In order to do that, however, the Flames needed a new general manager – having relieved Jay Feaster earlier in the season. And just over two weeks after their final game the Flames had their man: Brad Treliving.
Notable Additions:
Jonas Hiller, G
Brandon Bollig, F
Mason Raymond, F
Devin Setoguchi, F
Deryk Engelland, D
Notable Departures:
Mike Cammalleri, F
Lee Stempniak, F
T.J. Galiardi, F
Keys to success
Goaltending: No surprise here that one of the keys to success for Calgary would be found in net, given the aforementioned struggles from last season. It's no guarantee Hiller will be the starter – the coaching staff maintains he and Ramo will battle for that role – but Hiller certainly has the credentials. His performance at the 2014 Sochi Olympics, as well as his experience playing multiple big games for the Anaheim Ducks, should serve him well.
The kids: The duo of Johnny Gaudreau and Sean Monahan will be relied upon heavily for offense. Given the team's scoring woes last season these three alone could provide a significant boost to the team's goal tally. Throw in veterans such as Hudler, Raymond, Mikael Backlund, Curtis Glencross, etc. and goals may not be as hard to come by in 2014. And let's not forget this summer's 4th overall pick Sam Bennett (who has an outside shot of making the team), but could also provide an offensive boost.
Staying healthy: The now-departed Chris Butler was the only man on the Flames' roster last season to play the full 82 games. Notable players who missed significant time include Dennis Wideman, Matt Stajan, Kris Russell, Glencross, Stempniak, Cammalleri, Giordano and Ladislav Smid (though Smid's reason is because of a trade, not injury). Backlund, Monahan and Hudler missed time, as well, though none missed any more than seven games. There's no question a healthy Flames squad last season wouldn't have suffered the same fate they did, and a clean bill of health this season could help them pick up a few more wins than last season.
2014-15 prediction:
The offensive additions Treliving made help the team score more goals, and Hiller does his part in the net (with the help of Ramo), helping Calgary finish in the top half in goals against. But despite their improvements, the Pacific Division is still much too strong for the Flames to make up any ground. The California trio is still the class of the division, the Vancouver Canucks have improved enough to make a playoff push and the Phoenix Coyotes and Edmonton Oilers will do enough to stay ahead of the Flames.
This season's finish: Last place, 79 points
Leading scorer: Sean Monahan, 62 points