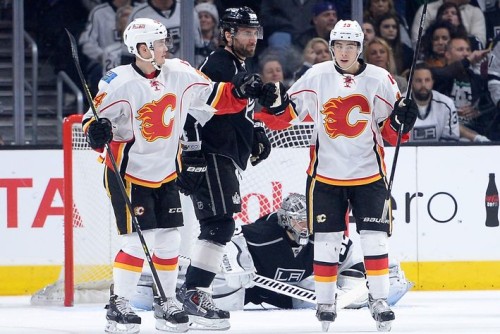 The struggles of Calgary's forwards early in the season were clearly visible: Mark Giordano and TJ Brodie – both defencemen – were the ones generating much of the team's scoring.
So poor was the team's forward production, in fact, that Giordano and Brodie were one-two in team scoring for much of the early part of the season. Just past the mid-way mark, however, Calgary's forwards have – for the most part – figured things out. And it's no coincidence the team has had more success as a result.
The Flames' scoring chart doesn't completely reflect the upswing in the the production from their forwards, but it does feature more forwards more prominently than it did earlier in the season. Jiri Hudler has had the biggest turnaround of any of the team's forwards, taking over Giordano for the scoring lead at one point, but currently sitting tied with him at 39 points.
After starting the season with points in each of his first three games Hudler hit a dry spell – five games without a point. Since then he has been on tear, never going more than one game without a point until early January when he failed to register a point in three consecutive games. Hudler's success has no doubt been a factor in getting Sean Monahan going, as well.
Monahan's struggles were similar to those of Hudler in the early going as he also had a long drought in mid-October. But, like Hudler, Monahan found his stride later that month and – though he hasn't had quite the same run as his linemate – hasn't slowed down since. He's currently on a three-game point streak that includes three goals and an assist.
And of course, it's hard to overlook the rookie who's sweeping the league: Johnny Gaudreau. Johnny Hockey – as he's currently in the process of trademarking – has not-so-subtly crept his way into the rookie scoring race, trailing Filip Forsberg (39) by five points. This after a dreadful start to the season that saw coach Bob Hartley scratch the youngster to send a message (one he clearly received).
Though the forwards have definitely stepped things up collectively as the season has gone on, let's not forget just what the defence has done. Giordano (39) and Brodie (29) are still one-two in defensive scoring, with Dennis Wideman (27) trailing just behind and Kris Russell sitting at 17 points – all assists.
Rounding out the top-eight are the aforementioned forwards (along with Curtis Glencross), who form a recipe that includes equal parts forwards and defencemen. Of course there's no guarantee the Flames will be able to keep up such a balanced attack, but the Flames have to be relieved they're at least getting more contributions from their forwards.