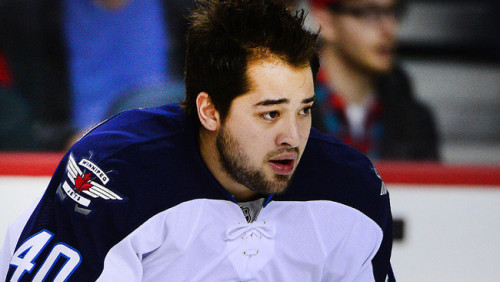 The Calgary Flames signed free agent forward Devin Setoguchi to a one-year contract on August 23 worth $750K.
Setoguchi is coming off a disappointing season with the Winnipeg Jets in which he scored just 11 goals and 27 points in 75 games. The move to Calgary is a homecoming of sorts for Setoguchi who is from Taber, Alberta – a small town about three hours south-east of Calgary – which could help him feel more relaxed and improve his play.
The Flames will definitely be hoping for Setoguchi to regain his old form from his time with the San Jose Sharks where he spent his first four seasons. The highlight of his tenure on the coast was the 2008-09 season when he scored 31 goals and racked up 65 points – a feat he hasn't come close to duplicating since.
In fact, since that season he has only reached the 40-point plateau once (though he was on pace for 46 points in the lockout shortened season).
But if nothing else he adds some depth and experience to a forward group that is, altogether, very young. His experience will undoubtedly serve players such as Sean Monahan, Johnny Gaudreau and Bill Arnold well – especially combined with the mentorship of the other veterans on the roster.
And if things don't work out as hoped the Flames won't lose very much in the process. The one-year term means the team can cut ties with Setoguchi at season's end with no repercussions if things don't work out. Plus, with a dollar value of $750K it's a low risk situation that could pay huge dividends if Setoguchi can regain his form.