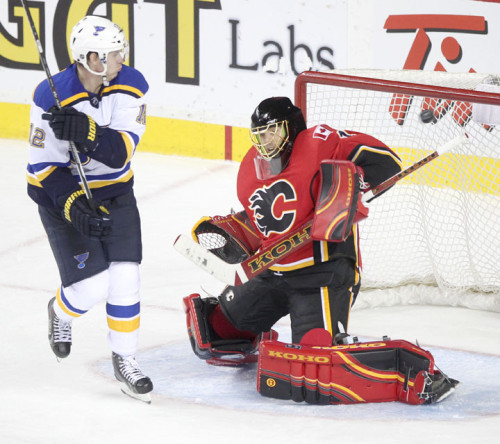 What looked so simple just weeks ago has now become a great uncertainty. After holding down a playoff spot – comfortably at that – for most of the season, the Calgary Flames are now in the fight of their lives with 10 games remaining in the season.
Adding more intrigue is the fact the Flames have a realistic shot of getting as high as second in the Pacific Division while, on the opposite end, they could miss the playoffs entirely. As of March 23 they sit four points behind the Vancouver Canucks and two points ahead of the Los Angeles Kings who hold a crucial game in hand.
Given that both teams who currently hold wild card spots – the Minnesota Wild and Winnipeg Jets – have more points than the Flames do, the wild card is a safety net no longer – it's win or bust. Fortunately for Calgary, the San Jose Sharks may not be much of a threat, sitting six points back and struggling as of late, but nothing is ever certain.
But for the Flames to hope their opponents lose their way out of the playoff race would be futile, to say the least. Rather, if the Flames can win their fair share of games down the stretch they won't have to wait with bated breath on the results of the teams chasing them.
To win, however, will require some serious changes – specifically in goal. Save for a few short stretches this season, Calgary's goaltending hasn't been too spectacular. It hasn't been bad by any means, but not enough to consistently steal wins.
But lately the play of Karri Ramo and Jonas Hiller has slipped: The team has surrendered three or more goals in seven of 10 games in March. In those seven games the team has a record of 3-2-2, in no small part thanks to its high-flying offence. Calgary has the sixth most productive offence in the league, producing an average of 2.88 goals per game (207 goals in 72 games).
But forcing your forwards to put up four goals per game (on average) just to help the team feel like it has a shot at winning eventually takes its toll. It's the opposite problem of the Montreal Canadiens, who rely so much on Carey Price to compensate for a stagnant offence. In Calgary, the question has to be "What happens when the offence dries up?"
Will Ramo and/or Hiller be able to recapture some of their respective early season magic just in time for these critical remaining games? Only time will tell. But the offence is bound to sputter at some point – it's almost impossible to maintain the production they've had of late.
The only question is whether a decline in offence will be the difference between a post-season berth and an early golf season.