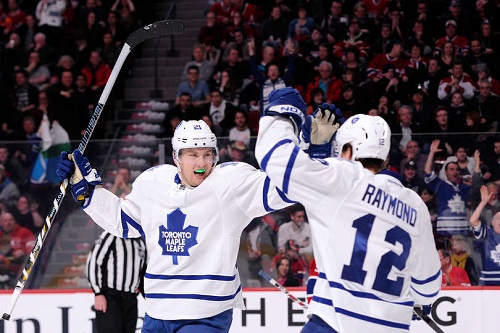 It's that time of year again, when Toronto Maple Leaf fans start to frantically crunch the numbers to see if and how their team can clinch a playoff spot. Happy March, everyone.
The Leafs lost 4-3 in OT to the Montreal Canadiens Saturday night, two nights after losing 5-4 to the New York Islanders in OT. The boys only have 20 games left to push out of a wild card spot into a more comfortable playoff spot, and with a close race in the Atlantic Division, they have their work cut out for them.
Before you get in too deep, you should all know that this article is filled with math, math and more math. Hockey math, which makes it awesome, but still. Don't say I didn't warn you.
Of their 20 remaining games, nine are at home and eleven are away. They play six of those home games and eight of the away games against teams from the Eastern Conference, and three home and three away games against teams from the Western Conference. Now re-read that about five times until it makes sense and meet me at the next paragraph.
Glad you're caught up, this is where the math starts to get really fun. I based my stat analysis on the past three seasons (2010-2013) to try and make this as relevant to the current season as possible. Yes, management and coaching staff have changed significantly since then, and there have been notable roster changes, but in such a constantly changing environment this is as close as it gets.
In the last three seasons, the Leafs have won 41% of their home games against teams from the West, and 47% against teams from the East. As for away games, they've won 45% against teams from the East and 56% against teams from the West. It doesn't take a mathematician to figure out that those aren't particularly successful numbers. Luckily, this season has been, for the most part, an improvement on previous years.
The Leafs have won 67% of their home games against teams from the East and 64% against teams from the West. Their away record on the other hand, has not been the best. They've only managed to win 30% of their away games against Eastern teams, and 46% against Western teams.
So what do all of these headache-inducing numbers mean? Well, based on their past 275 games (including the 62 played so far this season), they have a 54% chance of winning their remaining home games against teams in the East and 50% against teams in the West. Away from home, they have a 43% chance of winning their games against the East and 52% chance against the West.
The total outcome? Statistically speaking, the Leafs have a 50% chance of winning their next 20 games (well technically 49.5%, but when it comes to winning it's always best to round up). We also have to consider "loser points" (OT/SO loss), and this season, the Leafs earn one point in about 33% of their losses. Assuming they win half their games (20 points), and assuming they keep that loser point pace (3 points), they will end the season with 95 points.
It's going to be close, but a spot in the playoffs is definitely attainable, and the wild card provides a nice cushion just in case. There are going to be some tough battles though, the most crucial of them being the eight remaining inter-divisional games, four home and four away. It's too soon to tell where exactly the Leafs will end up in the standings, but they have a fighting chance, which is all a fan needs to hear to tide them over right until the end.