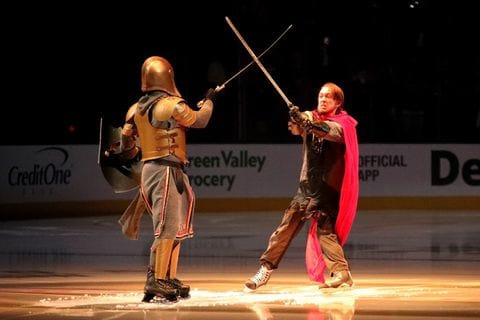 After losing Game 4 by a score of 6-2 and going down 3-1 in the Stanley Cup Final, it seems that the Vegas Golden Knights have finally lost their Misfit Magic. The Golden Knights appear to be out of sync more times than not, and primarily in the defensive zone.
At the other end of the ice, the Washington Capitals appear to be getting all of the puck-bounces in their favor and the team's days of losing on the big stage already seem like a thing of the past. Yet, deserving teams more times than not, earn the bounces and puck-luck – if you will.
Washington has found the formula to not only take Vegas off its game but crack goaltender Marc-Andre Fleury and when it matters most. The Knights have appeared frustrated for the first time all postseason, and have lost three straight games for the first time since late February.
Scoring opportunities that would hit the post for Vegas, like James Neal's wide open scoring chance in Game 4, would normally go in and have a momentum swing in favor of the Golden Knights. Instead, it's backfired these past three games and the Capitals have taken full advantage of any momentum swings that they can execute on.
James Neal's shot clangs off the post 😱#StanleyCup pic.twitter.com/9pxqdUhXH3

— FanDuel (@FanDuel) June 5, 2018
With all of those factors taking place in the series thus far, can fans expect the Knights to not just win Game 5 and stay alive, but force a deciding Game 7?
Yes and here's why.
Waking Up In Vegas
The party went on all Knight and much longer than expected, but it finally had to end at some point in Vegas, and waking up hit the team as hard as any Vegas hangover would. Yet, that harsh feeling the next day is only temporary.
Sure, the Golden Knights are more than familiar with overcoming adversity, but now their backs are against the wall with a different type of adversity presenting itself. Vegas has never been down in a series after two games, let alone been on the verge of elimination.
Time to celebrate another Golden Knights GOAL in Vegas! The Real Deal James Neal makes it 1-0 #VegasBorn vs #ALLCAPS #StanleyCup Final Game 2! pic.twitter.com/XMI51Sl53Y

— SiriusXM NHL Network Radio (@SiriusXMNHL) May 31, 2018
Yet, if there's a team that would establish a memorable comeback down 3-1 in the Cup Final – it would be Vegas, right? Perhaps the Golden Knights lost their Misfit Mojo and flair once they actually had everyone stop doubting them after Vegas reached the Final by winning 12 of its first ever 15 Stanley Cup Playoff games.
It's a wakeup call. It wasn't going to be that easy, Vegas. But, expect this team to respond like it has since, heck, the Expansion Draft almost one year ago.
Gallant
Head coach Gerard Gallant arguably wants this Stanley Cup more than anyone else on the Golden Knights' bench at this given moment. He's up for the Jack Adams Award (Coach of the Year) for a reason and has coached this team in the right direction no matter the circumstances and what challenges were thrown Vegas' way all season long.
Like his team, Gallant has adapted and transformed into a better coach since joining Sin City. He's commanding, yes, but his positive attitude and trust in his players is an admirable cure for losing.
Get Back Home
Thankfully, the Golden Knights are facing their first elimination game on home ice at T-Mobile Arena. Yes, the Capitals have been efficient on the road, but Vegas seems to play its best hockey in front of the home crowd. There's probably no better feeling after suffering back-to-back losses than to go home and play in front of that uncanny energized Vegas crowd.
There were a lot of emotions going around towards the end of Game 4, and there's no one more eager to take to the ice than Vegas right now. That anxious feeling can be unleashed from puck drop, and the Golden Knights will have the advantage to take over the momentum early on.
Though, Gallant's team knows that they'll need to score first. The team that's scored first in this Final has won every contest but one (Vegas lost Game 2). Vegas will need to stay more discipline – nothing is worse than an opponent's power play that's thriving and moving the puck around with high-confidence like Washington's currently is.
It's still, Washington
Until the Capitals prove otherwise, they're still prone to losing and blowing a series lead. Washington has already lost three games in a row during the 2018 Stanley Cup Playoffs (Eastern Conference Final), so winning two games is doable for Vegas.
Teams that take a 3-1 series lead in the #StanleyCup Final hold an all-time record of 32-1.

The 1942 Maple Leafs were the only team to overcome the deficit, after coming back from a 3-0 hole to defeat the Red Wings. #NHLStats pic.twitter.com/v2MkA2Zbom

— NHL Public Relations (@PR_NHL) June 5, 2018
Almost the entire Caps' team has never been in a position where they can clinch the Stanley Cup – there's pressure on both ends of the spectrum right now, and Vegas should use that to its advantage.
What Type of Win Does Vegas Need?
I know, I know…any win at this rate does the trick, or does it? No.
Vegas will need that statement victory that can carry that same feeling, energy and confidence back over to Washington for Game 6. M.A. Fleury needs to have his best game of the playoffs in Game 5 and pitch a shutout.
Look for Vegas to score often and early, and prove that they can shut down the Capitals scoring depth on offense, especially Washington's power play.
Prediction: Vegas wins 3-0 (empty net goal).
3 Stars:
Marc-Andre Fleury
Nate Schmidt
Alex Tuch
Tweet your NHL related questions to @KMcKenna_tLT5 to have them answered & be sure to use the hashtag #McKennasDigest
Kyle McKenna covers the NHL for Hooked On Hockey Magazine. He can be reached on Twitter (@KMcKenna_tLT5)