Featured
Top Social Media Posts For January 2020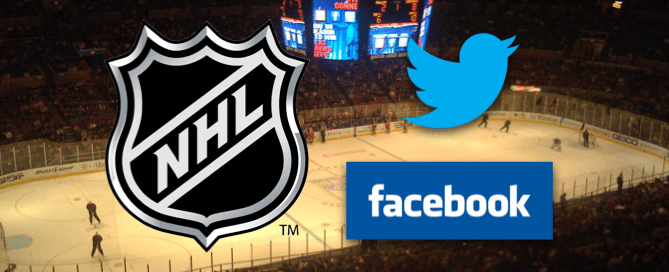 While some teams are already eyeing down the 2020 NHL Entry Draft in Montreal, Quebec this summer, others are seeking a spot in the Stanley Cup Playoffs. The race to finish in the top-eight for both the Eastern and Western Conferences is set to be nothing short of entertaining.
The first month for 2020 was filled with mixed emotions, which means social media entailed a say in the process.
Here's a look at Hooked On Hockey Magazine's top social media posts for January 2020 from around the NHL and hockey community.
Rest in peace to an all-time great in Kobe Bryant. The Anaheim Ducks honored the five-time NBA champion and the other victims from the horrible crash.
https://twitter.com/anaheimducks/status/1223345474305851392?s=21
Inside the locker room. #WinterClassic | #GoStars pic.twitter.com/GsIYYm0tw4

— Dallas Stars (@DallasStars) January 1, 2020
The Winter Classic was just one month ago, and Texas reminded the sports world that it sure knows how to host an event, plus an outdoor hockey game.
GAME OVER! 🇨🇦 IS GOLDEN AGAIN! 🥇

📊 https://t.co/VQkLHdMwrD#WorldJuniors pic.twitter.com/bh2oQUP3vF

— #WorldJuniors (@WorldJuniors) January 5, 2020
World Junior 2020 was fun and exciting, especially if you were cheering for the team North of the Border.
#BeastMode pic.twitter.com/iD78HnMNn7

— TJ Oshie (@TJOshie77) January 5, 2020
T.J. Oshie is apparently a Seattle Seahawks fan, or the Minnesota native is just a really big fan of running back, Marshawn Lynch…or Skittles.
Hockey players can juggle, too. 😅 pic.twitter.com/MFbglFKvZj

— NHL (@NHL) January 6, 2020
The only thing better than the Pittsburgh Penguins alternate jersey from this video is the move. Close, but no cigar.
https://www.instagram.com/p/B66HZ5YlcPO/?igshid=m104ywh0ncr0
Former Buffalo Sabre great, Michael Peca, surprised the faithful sports town with his hidden Buffalo Bills jersey. The former Sabres' captain unveiled the jersey one day prior to the Bills' playoff game against the Houston Texans.
https://www.instagram.com/p/B6_ZmYSlLjc/?igshid=12nvviljcxeji
The Sabres took things one step further with their celebrations for a retro night.
https://www.instagram.com/p/B7FmV_ggx9P/?igshid=19tt6mr8o4tlx
How about this awesome throwback post…what's even more interesting is the fact that Team USA and the San Jose Sharks skated against each other in an exhibition game.
Happy birthday, Wes McCauley! 🎉

The League wouldn't be the same without you. pic.twitter.com/I68hbzjzPM

— NHL (@NHL) January 11, 2020
The NHL posted this epic video tribute for notable referee Wes McCauley.
name this cellypic.twitter.com/NVsjyiC1kj

— Yahoo Sports NHL (@YahooSportsNHL) January 14, 2020
New York Rangers forward Artemi Panarin is clearly loving the City That Never Sleeps. Perhaps fans will witness this goal celebration in EASports' NHL 2021? That's right, you heard it here first.
Since today will clearly now be forever known as Nicklas Backstrom Day, let's look back at some of the most memorable moments of his career!

October 5, 2007: First game and first assist for the man who would eventually become the franchise assists leader.#ALLCAPS #NickysBack pic.twitter.com/mK6Imm7mrI

— Washington Capitals (@Capitals) January 14, 2020
Speaking of tributes, the Washington Capitals posted a montage for Nicklas Backstrom. The Swedish native has earned over 900 career points since joining the league back in 2007-08.
This is photoshopped right? 🤣 #nhl pic.twitter.com/gfIjSHqIet

— Nathan Gerbe (@NathanGerbe14) January 15, 2020
NHL forward Nathan Gerbe is known for his smaller size, but he also proved that he has a personality.
Pete DeBoer: "if my team got an unfair five-minute major call against it in the playoffs, I simply would not allow the other team to score four times"

The Golden Knights: "You're hired"

— Sara Civ (@SaraCivian) January 15, 2020
The Athletic's Sara Civ is no stranger to this list. The Carolina Hurricanes beat writer has also earned a post every month this season for HOHM's ongoing series.
https://www.instagram.com/p/B7CgZ2GAgnC/?igshid=3two22jbvn54
Rapper Travis Scott apparently might take up ice skating. It would be nice to see the Nike brand back out on the ice.
ATTENTION…hands have been lost or stolen, if found please return to TD Garden…thanks

— Brad Marchand (@Bmarch63) January 17, 2020
While a majority of NHL fanbases other than Boston dislike Brad Marchand as a player, let's all admit he can portray his humor over social media. Marchand posted the comical tweet after the pest botched a shootout attempt vs. the Philadelphia Flyers, which will be remembered forever.
https://www.instagram.com/p/B7msUrUnNfV/?igshid=iimgcgcc7xt
January truly was a month for tributes. The Chicago Blackhawks welcomed Home Coach Q with class and style.
https://www.instagram.com/p/B7hnk22pyjc/?igshid=1ohqzxk6lfer0
While the San Jose Sharks are struggling, Erik Karlsson and company can still cheer on the potential Super Bowl champions.
https://www.instagram.com/p/B7xJvbBHT98/?igshid=e1rqdwve58q
The Hockey community discovered last spring that actress and "The Office" star, Jenna Fischer, is a big hockey fan and of the St. Louis Blues. A Jim-less "Pam" was able to coach the Atlantic Division team during the 2020 All-Star Game in St. Louis.
https://www.instagram.com/p/B7uVfc3HWor/?igshid=ygna8sns8tt9
Speaking of St. Louis, the Sharks and Blues never liked each other anyway – Blues' Ryan O'Reilly is clearly a Sea of Red fan.
Much respect! #MambaForever #24 | @ovi8 pic.twitter.com/rQ25Kq4Dr8

— Ted Leonsis (@TedLeonsis) January 30, 2020
Alex Ovechkin showed his respects for the late Kobe Bryant with this nice tribute.
Congrats, @ovi8! https://t.co/1KViFY292p

— Detroit Red Wings (@DetroitRedWings) January 30, 2020
Detroit Red Wing great, Steve Yzerman, posted a classy congratulatory video for Ovechkin, after the Russian sniper passed the three-time Stanley Cup champion on the all-time goals list.
The @LAKings arriving to the rink with some Kobe Bryant love. pic.twitter.com/4aKkqhkPpZ

— NHL (@NHL) January 30, 2020
The Los Angeles Kings were jersey to honor Bryant and in style.
Think you have a top NHL social media post? Tag or send it to @KMcKenna_tLT5 via Twitter to have it potentially used for next month's edition.
Kyle McKenna covers the NHL for Hooked On Hockey Magazine. He can be reached on Twitter (@KMcKenna_tLT5)