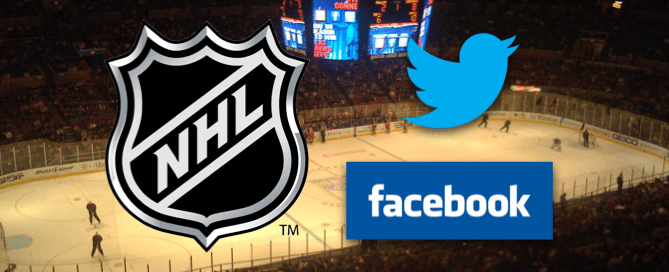 Happy Holidays to all!
It's time to reflect on the top NHL social media posts from November 2019 that hockey fans are all thankful for.
would I date a hockey player? yes and here's why. he can teach me how to ice skate, the one thing I can't do, rendering me unstoppable. plus if the situation called for it he would definitely punch someone for me so 10/10

— ellie schnitt (@holy_schnitt) November 27, 2019
I think anyone who's ever laced up the skates is lining up for Barstool's Ellie Schnitt.
Thanks for the yearly reminder!!! https://t.co/nNcZ0dnu75

— Martin Biron (@martybiron43) November 24, 2019
Former Buffalo Sabres goaltender and current Tv commentator, Martin Biron, was informed of his yearly reminder.
https://twitter.com/mynameslimkatie/status/1198381585101459456?s=12
Talk about creativity? These Colorado Avalanche fans are not only dedicated but also hysterical.
Check out some posts from the St. Louis Blues after they wore these iconic sweaters from the 1990s. Still, broadcaster Darren Pang's outfit might outdo the Blues' throwback jerseys.
#ThrowbackThursday pic.twitter.com/NKkB5fzIFq

— St. Louis Blues (@StLouisBlues) November 21, 2019
https://www.instagram.com/p/B5JolvrFH7G/?igshid=2kry5gjn2kx5
See HOHM's Top Social Posts For October
Vintage 1990's throwback's on the @StLouisBlues tonight VS the @NHLFlames on @FSMidwest and Ryan O'Reilly and the boys are loving them ! pic.twitter.com/cEYZKFZ6Ic

— Darren R Pang (@Panger40) November 22, 2019
It'll be the battle of the 1993 expansion teams tonight when the #FlaPanthers host the #Ducks … It was also a great year for movies. What's your favorite flick of '93? pic.twitter.com/ZniMD7lels

— Jameson Olive (@JamesonCoop) November 21, 2019
Now, this is a tough call, but HOHM would have to go with "Jurassic Park" while "Mrs. Doubtfire" settles for a close second place.
Three in a row for the New York Islanders. #Isles pic.twitter.com/OvQQTooK4c

— Isles Territory (@IslesTerritory) November 17, 2019
A New York Islanders blog took full advantage to entertain everyone after the Isles' impressive point-streak.
Thank you. Hard to articulate, but no one should have to go through cancer once, let alone 4 different times for 4 different types of cancer. She's the bravest, most courageous person I know and her commitment to fight keeps us fighting each and everyday. Love you mom ❤️ https://t.co/jIqLeFyYz7

— Jamison Coyle (@JamisonCoyle) November 16, 2019
Everyone should watch this segment above from the NHL Network.
https://twitter.com/njdevils/status/1195488272270667778?s=12
New Jersey Devils forward Kyle Palmieri continues to be an advocate for appreciating the military.
Typical Gritty with a sneak attack https://t.co/Q5CBf01GTk

— Spittin' Chiclets (@spittinchiclets) November 14, 2019
The Philadelphia Flyers and their mascot, Gritty, never seem to disappoint.
Which classic NHL jersey would you love to see brought back on a full-time basis?

— The Hockey News (@TheHockeyNews) November 13, 2019
The Hockey News asked a very important question after a few NHL teams took to the ice in November with some throwback sweaters.
I am 25 pic.twitter.com/WMUVPxsHBE

— Sara Civ (@SaraCivian) November 11, 2019
The Atheltic's Sara Civ made here way to HOHM's top social posts for the second straight month with this relatable and hysterical Twitter thread.
Coming today… 🏓#PaddleBattle pic.twitter.com/66Io19wtc0

— Buffalo Sabres (@BuffaloSabres) November 11, 2019
This was a pretty neat idea from the Buffalo Sabres to entertain some fans and get everyone in a mood to play ping-pong, or to start taking it up as a new hobby.
Lean into it, Arizona. Lean into it pic.twitter.com/yVWTglCJ2s

— Catherine Silverman (@catmsilverman) November 7, 2019
The Arizona Coyotes have clearly improved their Pr & marketing schemes, and also displayed that the Stanley Cup-less franchise isn't afraid to speak up, either. More details on here.
https://www.instagram.com/p/B4Yrr5ZgwsA/?igshid=1qy4k9d8djl56
Here's a look at the NHL's Hockey Fights Cancer sweaters this season.
So my daughter had her 2nd Grade students 'write about something you're an expert in.' I'll have to keep an eye on this one … pic.twitter.com/KC61hiIQfO

— Mike Morreale (@mikemorrealeNHL) November 7, 2019
NHL dot com's Mike Morreale clearly has some serious competition heading his way.
"I'm very lucky to be in the @NHL."

Congratulations to @NHLBruins legend Zdeno Chára on career game 1️⃣5️⃣0️⃣0️⃣! pic.twitter.com/IUXuYjpzJT

— NHL Network (@NHLNetwork) November 6, 2019
Check out this cool tribute from the NHL Network for Boston Bruins defenseman, Zdeno Chara. Big Z is still going strong after Mike Milbery doubted and traded him away from the New York Islanders in 2001.
Kade, I wish I was 11 years old again…it was a great age. Happy birthday pal. It's going to be an awesome year for you!

— Steve Levy (@espnSteveLevy) November 3, 2019
This Twitter thread is absolutely worth checking out. The chances are the kids who didn't show up aren't even hockey fans…
More like Matthew WTFachuk pic.twitter.com/o8J8l15HTB

— Jamison Coyle (@JamisonCoyle) November 1, 2019
NHL Network's Jamison Coyle said it best after Calgary Flames forward Matthew Tkachuk scored this unimaginable goal in overtime against the Nashville Predators.
Max you could have posted a different picture brother. C'mon man https://t.co/iu6jMfPQ53

— Jeff O'Neill (@odognine2) November 1, 2019
Toronto fans are still bitter about this photo…for the record, Tie Domi never dressed for the Montreal Canadiens.
Think you have a top NHL social media post? Tag or send it to @KMcKenna_tLT5 via Twitter to have it potentially used for next month's edition.
Kyle McKenna covers the NHL for Hooked On Hockey Magazine. He can be reached on Twitter (@KMcKenna_tLT5)
Love Reading About Hockey?

Subscribe to keep up-to-date with the latest and most interesting hockey news!
| | |
| --- | --- |
| | We hate spam just as much as you |