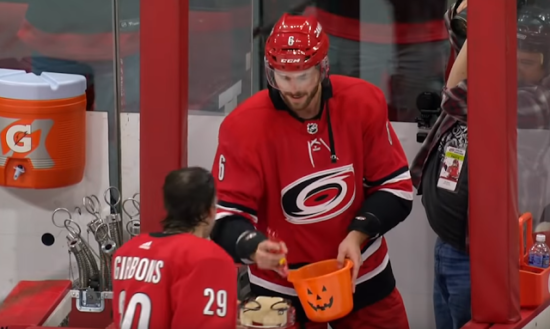 Ding-dong!
'Hockey' Halloween, everyone.
For tonight's Storm Surge… EVERYONE GETS CANDY! pic.twitter.com/Z0rJh2egVA

— NHL (@NHL) October 30, 2019
Hooked On Hockey Magazine's monthly edition for the NHL's top social media posts returns and just in time for the spooky holiday, which plays host to just two NHL games tonight. So, don't worry – trick or treating won't interfere with most NHL cities around North America this year.
Let's take a look back on October's top social media posts from around the NHL.
The Anaheim Ducks and Fox Sports added some humor to Anaheim's pregame show with a Blades of Glory theme.
https://twitter.com/anaheimducks/status/1189390217179881472?s=12
For once, Philadelphia Flyers mascot, Gritty, was admired by all the other 30 NHL teams, after making an appearance with one of his biggest fans.
When pen pals become real pals.
Happy Birthday Jack! pic.twitter.com/YGwqKRoxHK

— Gritty (@GrittyNHL) October 30, 2019
Carolina Hurricanes beat report for The Athletic, Sara Civian, hysterically spun a tweet from the National Lacrosse League's Buffalo Bandits – even the struggling Toronto Maple Leafs' fans have to chuckle at this one. Well played…
I know the Leafs are struggling but I didn't think they stunk this bad https://t.co/ZaYwMMHTVi

— Sara Civ (@SaraCivian) October 29, 2019
Anaheim Ducks forward, Adam Henrique, is a familiar face to HOHM's top social media posts. 'Rico didn't disappoint with one of his latest tweets, either. No. 14 is notorious for supporting Movember no matter which city he skates in.
Almost time for #Movember!
Help Support a Great Cause!https://t.co/nArkkeFWwr#MoBro @Movember pic.twitter.com/TlMs4ATnz4

— Adam Henrique (@AdamHenrique) October 29, 2019
Believe it or not, but that awesome makeup job and costume is from the NHL's best player, Connor McDavid. The only thing arguably missing from this post is the mistletoe.
https://www.instagram.com/p/B4GQhniHNKR/?utm_source=ig_web_copy_link
The New Jersey Devils had some fun in-game with the team's color commentator, Ken Daneyko. The three-time Stanley Cup champion broke headlines a couple of weeks back after he was caught singing along to Bon Jovi's, "Livin' On A Prayer," over a matinee broadcast.
https://twitter.com/njdevils/status/1187887057705811970?s=12
NBC Sports' Twitter account posted this throwback for some of the Buffalo Sabres' former sweaters. They're all beauts in my mind – what do you think?
Which @BuffaloSabres jersey is your favorite? pic.twitter.com/e0RKkcjL6G

— NBC Sports Hockey (@NBCSportsHockey) October 18, 2019
The Arizona Coyotes celebrated hot-dog eating Phil Kessel's 1,000th career game in addition to the team's Kachina Saturdays.
It's a Kachina Saturday and we're honoring @PKessel81 for hitting 1,000 @NHL games played during a pregame ceremony.

Be there: https://t.co/QOXfjr79KO. pic.twitter.com/kf0Qag712K

— Arizona Coyotes (@ArizonaCoyotes) October 19, 2019
Goaltenders at any level never have it easy – just ask Montreal Canadiens netminder, Keith Kinkaid…
Little mic'd up behind the scenes pic.twitter.com/98bDW3KtzK

— Keith Kinkaid (@Blockaid1) October 19, 2019
The San Jose Sharks have always worn some of the best sweaters in the league, but how about these sugar-skull themed jerseys the team wore during warmups for Hispanic Heritage night…
https://www.instagram.com/p/B30VRK3pJHA/?utm_source=ig_web_copy_link
Panthers' website reporter, Jameson Olive, reminded everyone that Florida sure knows how to have fun, especially with the team's recent success on the ice.
.@JessBlaylock gets a little help from @FrankJForte at the end of tonight's victory dance. 😂😂😂 #SafetyFirst pic.twitter.com/pNWxup7erN

— Jameson Olive (@JamesonCoop) October 23, 2019
Again, the Panthers are an entertaining team to not only watch this season but follow…
https://www.instagram.com/p/B341x7QpYce/?utm_source=ig_web_copy_link
Former New York Rangers goaltender and now Arizona Coyote masked man, Antti Raanta, appears to still have a great relationship with Henrik Lundqvist and the Blueshirts. Perhaps the Finnish native will end up back on Broadway in the near future…
🎶Make new friends but keep the old.🎶 pic.twitter.com/9gl9SBSFqB

— New York Rangers (@NYRangers) October 22, 2019
While the New Jersey Devils were the league's worst team at the end of October, the organization is killing it when it comes to gaining publicity across North America. Jimmy Fallon made a deal with NJ Devil and lost that bet, after his beloved New York Rangers lost to the New Jersey Devils earlier in the month.
https://www.instagram.com/p/B33AIM5hfIY/?utm_source=ig_web_copy_link
Persistency at its finest…this young Minnesota Wild fan was fortunate enough to get a puck after a fellow fan helped him out.
Wait until the end for the most sincere 'thank you' to ever exist pic.twitter.com/PjiOg6LXR6

— Mollie Walker (@MollieeWalkerr) October 23, 2019
Think you have a top NHL social media post? Tag or send it to @KMcKenna_tLT5 via Twitter to have it potentially used for next month's edition.
Kyle McKenna covers the NHL for Hooked On Hockey Magazine. He can be reached on Twitter (@KMcKenna_tLT5)