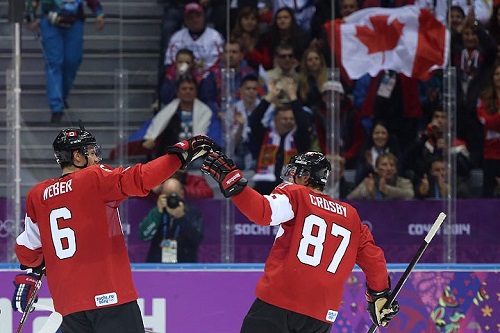 Team Canada opened the 2014 Olympics with a 3-1 win over Norway in what proved to be a closer game than most fans expected. After opening Vancouver 2010 with a 8-0 drubbing of Norway, it looked like Canada would do the same again. Still, getting the win is what fans really care about and this game still offered many examples of why Canada is still the team to beat.
Shea Weber, Jamie Benn and Drew Doughty scored for Canada, but it was a rough first period that really is the story of this game. Norway led the shot totals 4-1 after the first 10 minutes and had multiple pucks slide just past Carey Price's net. Canada picked up the play in the second half of the period, but turnovers and weak passes kept the two teams pretty close.
"What I learned tonight about the big ice is the ice isn't very big," Head Coach Mike Babcock."And what I liked about tonight's game for us: it was hard."
But once Weber beat goalie Lars Haugen with his huge slapshot, the floodgates opened for Canada and Norway couldn't touch the puck.
"We were too fancy," Weber said of the slow start. "But we got better as the game went along."
Wave after wave of Canadian offence, led by Sidney Crosby, Jonathan Toews and Ryan Getzlaf, kept attacking the Norway net. But it was the fourth line, with Patrice Bergeron, John Tavares and Benn that came together to score. Bergeron found Benn all alone in front and he had all the time in the world to pick his shot and score.
"We want to go as a team throughout this tournament," Benn said. "I'm taking this tournament all in as a first-time Olympian."
After Benn fired his wrist shot in, Canada continued to dominate, only to have Duncan Keith take a holding penalty late in the second.
And Norway responded with a powerplay goal 22-seconds into the third. A tipped shot from Mathis Olimb surprised Price and found it's way in.
"Everyone's probably thinking about where they need to be," Crosby said. "[There was] probably a thousand things going through their minds."
But Doughty wasn't phased and a few minutes later, he danced his way into the slot and beat Haugen with a backhand to put Canada back up by two.
Canada didn't give up any more scoring chances in the game, but they also didn't get any. It was mostly a passing game the rest of the way which made it easy for Canada to close out the win.
Canada continues the tournament tomorrow against Tomas Vanek and Austria. Babcock said after the game that Roberto Luongo will start for Canada.