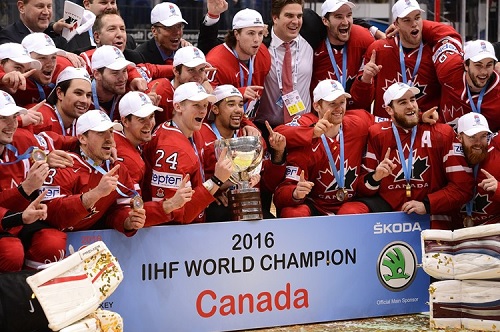 The winner and still champions of the hockey world: Team Canada.
Wanting to atone for their lackluster effort against Finland in the round robin, the Canadians looked like an almost entirely different team in the gold medal game from the one that was shut out earlier in the tournament. They carried the play and made a dominant Finnish team – not until their semi-final did they even trail a game – look like just another team on the ice.
Their game plan was more disciplined, more calculated and, most importantly, they didn't allow the Finns to get anything going for almost the entire game. Even with such weapons as Aleksander Barkov, Patrick Laine and Jussi Jokinen, among others, on their roster, Finland was unable to generate more than seven shots in any period, finishing with 16 total.
That was due in large part to Canada's aggressive style on the defensive side of the puck that saw its players clog the passing lanes, often preventing the Finns from breaking out of their own zone and leaving them few good options in the offensive zone. Helping the cause was Canada's dominant offensive play that pinned the Finns in the defensive zone for much of the game.
It was in stark contrast to their effort in the preliminary round that Canada was the dominant offensive team, keeping Mikko Koskinen busy in the Finnish. Of the 32 shots he faced the only blemish on Koskinen's record came in the first period when he surrendered what was, for 59:59, the game's only goal (Matt Duchene added an empty netter with one second remaining).
Having been held goalless prior to the gold medal game, despite registering eight assists, Connor McDavid chose the perfect time to end the drought. Protecting the puck from a defender while on his backhand, McDavid then quickly and smoothly transitioned to his forehand – all while avoiding the poke check of Koskinen – before chipping the puck under the bar.
The goal also introduces an interesting element of irony for McDavid, who will still be 19 years old come October, will play for team North America at the upcoming World Cup of Hockey, meaning he will be looking to hand the same fate to the Canadians then as he did to the Finns.