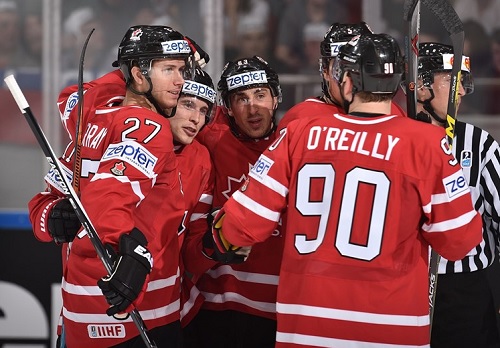 The fans who flocked to Russia for this year's World Hockey Championship didn't have to wait long to get a marquee matchup between two rivals – on paper, at least.
Unfortunately, the matchup between Canada and the United States didn't live up to its billing as the Canadians – who boast far more star power in the lineup than their North American counterparts – won handily by a 5-1 final.
For all of their aforementioned star power, it was Canada who surrendered the game's first goal, a powerplay marker from Edmonton Oilers forward Patrick Maroon. Maroon's teammate in Edmonton, Taylor Hall, provided a quick response for Canada, re-tying the game with a goal of his own just 30 seconds later.
From then it was a mere formality as the Canadians fired 16 shots at Keith Kinkaid in the first period, including another goal – this one by Brendan Gallagher at 8:48 of the period – to give Canada a 2-1 it would take into the intermission.
Canadian starter Cam Talbot had to be strong in the second period as the United States provided something of a push-back that put the Canadians on their heels. Despite firing 14 shots to Canada's 11, the Americans were shut out in the period thanks to some strong play from Talbot, while Matt Duchene added a goal to make it a 3-1 game.
The two teams played to a snail's pace in the third, combining for only nine shots, but Canada managed to break through for another two goals (courtesy of Boone Jenner and Brad Marchand) to take a commanding 5-1 lead it wouldn't surrender for the remainder of the game.
Next up for Canada: a meeting with Hungary.