Featured
Canada Going to Gold Medal Game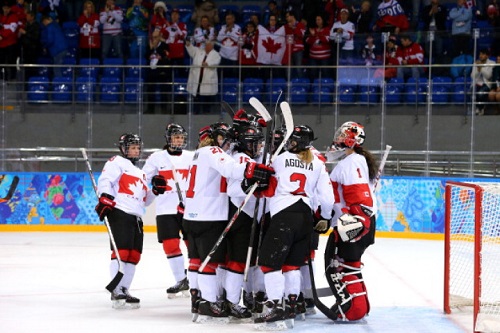 In their February 17 game against Switzerland, the Canadian Women's team continued their winning streak and closed the semi-final game with a 3-1 victory. They will face the United States for the gold medal, who Canada previously beat 3-2.
Canada completely dominated the first period, racking up 3 goals within the first ten minutes of the first period and putting significant pressure on Switzerland by keeping the puck in the offensive zone. Natalie Spooner got the first two goals, a brilliant wrist shot and a slap shot, with Melodie Daoust for the third (her first career Olympic goal).
Swiss goaltender Florence Schelling did an admirable job after the first period, and Switzerland took advantage of their many power plays by scoring a goal on a power play a few minutes into the second period.
The Canadians did a great job securing their position in the gold medal game, but the amount of penalties the Canadians took against Switzerland is something that can't be repeated in their game against the Americans.
The rematch of Canada vs. the United States for the gold medal will be a highly anticipated game. It bodes well for the Canadians that they won their first match-up, as this will give them a little confidence going into the medal game.