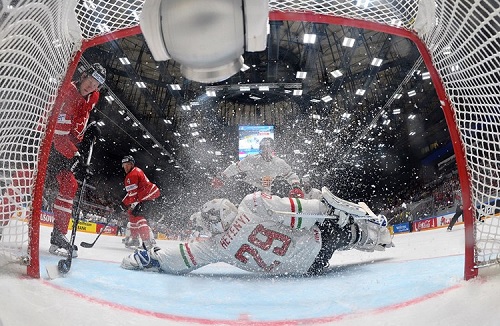 Canada's big guns came alive early Sunday morning in a 7-1 drubbing of the helpless Hungarians.
Coming off a rather painless 5-1 victory against the usually powerful United States in their tournament opener, the Canadians once again faced little resistance from a Hungary team that was severely mismatched. From the opening faceoff the ice was tilted significantly in favour of the Canadians, that pressure culminating in an early power play.
Mark Scheifele took advantage of the extra ice, potting the game's first goal off a sweet feed from Mark Stone to give Canada a 1-0 lead. The Canadians continued their offensive barrage in the following minutes and, after some great maneuvering by Taylor Hall, an unmanned Corey Perry finished off the easiest of tap-ins to double the Canadian lead.
Despite allowing a late first period tally by Istvan Bartalis that cut their lead back down to just a single goal – and nearly surrendering their lead altogether early in the second period – the Canadians settled down to once again take control of the game.
Originally stymied by Hungarian netminder Zoltan Hetenyi to start the period, it was only a matter of time before Canada found its legs and broke through – and break through it did, scoring four goals in the frame to take a commanding five-goal lead at the end of two periods.
The onslaught began with Stone – who picked up his second point of the game, cleaning up the rebound off a shot from his Ottawa Senators teammate Cody Ceci – and was followed closely thereafter by goals from Brad Marchand, Derick Brassard and Michael Matheson (whose goal prompted Hungary's head coach Rich Chernomaz to replace Hetenyi with Adam Vay).
Matheson – he of just three NHL games in 2015/16 – was the surprising source of offence for Canada, having also added assists on Marchand's goal in the second period, as well as Hall's marker in the third (Canada's seventh and final goal).
It was a light day for Calvin Pickard in the Canadian net, meanwhile, as he faced only 22 shots – many of them harmless – but was forced to make some big saves as he defended two separate one-goal leads en route to his first win of the tournament.
Next up for Canada is another relatively easy matchup against Belarus, which goes Monday at 9:15 a.m. EST.