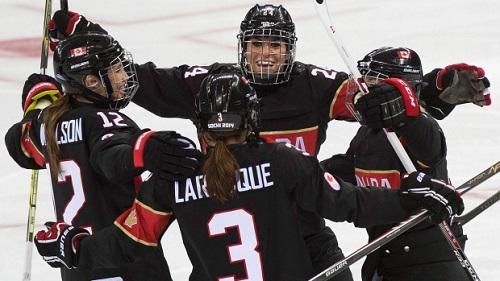 Canada is pretty into its hockey, so it's no surprise that in any kind of international event Canadians have high expectations for Canada's performance on the ice. The Canada Women's team played their first game at the 2014 Sochi Olympic Winter Games against Switzerland, and they certainly did not let Canadian viewers down.
Canada definitely came out of the gates fighting, and in the Saturday, February 8 game, managed to outshoot the Swiss by a staggering 69 to 14. They ended up shutting out Switzerland 5-0, a great way to start their Olympic run.
They played hard from the onset, and player Jocelyne Larocque scored the first goal of the night a little over 1 minute into the game.
"First shift, first shot…it was a great way to start the game," Larocque later commented.
The Canadian team has eight Olympic rookies, including Larocque, and they seem eager to put their best foot forward on the ice in the games.
The goal count only increased as the game progressed, with Tara Watchorn, Hayley Wickenheiser (who carried the flag for Canada in the Opening Ceremonies), Marie-Philip Poulin, and Rebecca Johnston all scoring a goal apiece.
The Canadian players all acknowledged Swiss goalie Florence Schelling's skill in net, but it was merely a question of quantity – with that many shots flying at her nonstop, it's only surprising that Canada didn't get more in. No amount of skill between the pipes was going to stop Canada from securing their first victory of the games.
Canadian coach Kevin Dineen was (naturally) pleased with their performance, saying "we got our game in order. It looked like we had a heck of a lot of energy out there today…it was certainly a good start for us."
In the International Ice Hockey Federation's world rankings, Canada is second only to the United States. The Canadian Women will take on Finland next, who recently lost 3-1 to the United States Women's team.