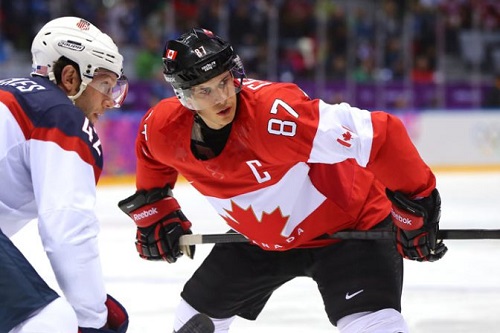 Team Canada will get a chance to defend their Gold medal after they beat the United States 1-0 in the semi-finals Friday. Jamie Benn scored the only goal for Canada, while Carey Price stopped all 31 shots he faced.
Both teams came out flying to start the game. This was always going to be a close game, but the speed and the passing from both teams was more exciting than any Canada had played up to this point. Canada outshot the USA 16-11 in the period but both Price and his American counterpart, Jonathan Quick, were solid in the net.
"We wanted to control the play and I thought our forwards did a pretty good job of holding it down in their end," Benn said. "And when they did get it out, our defence was great and Carey Price had another great game."
Canada really took control of the game in the second period, with lots of chances from all four lines. At times, Canada's cycling of the puck looked like a powerplay, even when it was 5-on-5. That pressure led to the only goal of the game. Benn sent a tape to tape pass to Jay Bouwmeester on the point, who then sent sent a perfect slap pass that Benn tipped past Quick.
"It was just a great pass by Jay Bouwmeester, he gave me a chance to get my stick on it and get it into the back of the net," Benn said. "It doesn't get much better than that."
Moments later on a powerplay, Price stopped Patrick Kane on an identical play to Benn's goal. But after that it was all Canada, going multiple shifts with constant pressure. Between Sidney Crosby, Jonathan Toews and Ryan Getzlaf, Canada consistently coming out and holding the Americans in their own zone. And when the Americans did get chances, Canada would pounce on them and clear the zone quickly. Price said defence won Canada the game.
"Our backchecking was excellent tonight," he said. "Our forecheck was good, trying to stay on the right side of the puck the whole night."
That same offence as defence strategy worked in the third period for Canada. They actually got more chances 5-on-5 than they did while Phil Kessel sat in the penalty box half-way through the period. But with five-minutes to go, the USA pressed hard, forcing Canada to lock it down defensively. In the end, a pile of players pinned the puck to the boards behind Price and Canada won the game.
"Stopping the puck, that's my only focus," Price said. "We knew they were a good hockey team over there and we found a way to win."
While the game felt like a Gold medal match, it was only the semi-finals. If Canada wants to defend their title from Vancouver, they will have to beat Sweden on Sunday.
Canada's game against the Americans was their most complete performance of the tournament, but Crosby says there is more to come from his team.
"We're going to have to find that next level [Sunday]," he said.
It's safe to say all of Canada will be up at the crack of dawn Sunday to watch Canada go for Gold.