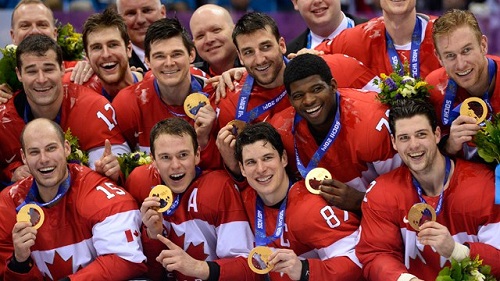 Team Canada repeated as Olympic champions Sunday morning with a dominant 3-0 win over Sweden. Jonathan Toews, Sidney Crosby and Chris Kunitz scored for Canada, while Carey Price picked up his second straight shutout. Canada became the first team to repeat as champions since the Soviet Union did in 1984 and 1988.
Just like in their win in the semi-finals against the USA, Canada didn't give Sweden an inch of ice. Only this time, they found the back of the net three times instead of once.
"Everyone knows the talent and commitment this team has but people doubted our team," Toews told CBC's Elliotte Friedman. "But here we are atop the podium so it feels pretty good."
Toews opened the scoring at 12:55 of the first, tipping a Jeff Carter pass through Henrik Lundqvist's legs. It was almost identical to the gold medal in 2010, when he opened the scoring at 12:50.
"The whole experience is amazing," Toews said. "Going out here and getting it done feels really good."
In the second period, Price was called upon early to make some big saves. He finished the game with 24-saves, most of them without rebounds. Price credited his teammates strong defensive play for his success.
"Playing behind that group of guys was a lot of fun," Price told Friedman. "That work ethic of those guys made it a lot easier."
Crosby, who had been shutout all tournament, scored another golden goal in the second. He broke away from the Swedish defencemen and beat Lunqvist with a backhand to put Canada up 2-0.
And in the third period, it was all Canada. Sweden only registered four shots in the final frame to Canada's 13. Again, offence proved to be the best defence for Canada, keeping Sweden pinned in their own end for most of the period. And Kunitz capitalized, turning the puck over and going bar-down on Lundqvist to secure the 3-0 win, and gold, for Canada.
"We were a tight group of guys from game one," Price said. "Canadian guys always find a way get along and we had a really enjoyable experience."
"In your whole career you have few opportunities and for me this is something special, for me and my family," Martin St. Louis, the oldest player on the team, told Friedeman. "It was nice to get out there today and I'll cherish it forever."
This Instagram video from PK Subban captures how happy the players were to win.
Price was named goaltender of the tournament, only giving up three goals in five-games and only one in elimination games.
"This was a really cool life experience and I'm really thrilled my family could enjoy this with me," he said.
The players won't have much time to celebrate. They will fly back to North America tonight, before the NHL season starts up again Wednesday night.