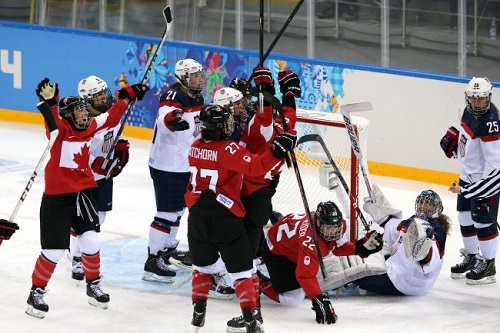 The two powerhouses in women's hockey, the United States and Canada, faced off today in an eagerly anticipated game at the 2014 Sochi Winter Olympic Games. In their match-up, their final game in this preliminary round, Canada managed to beat the USA 3-2.
The USA started strong in the first period, outshooting the Canadians 11-8, but Canada rose to the occasion and got a lot of really phenomenal opportunities. Ultimately, however, the period ended scoreless.
The second period was no different, with both teams applying a lot of pressure and keeping up the same intense gameplay that dominated the first period – not surprising in an arena like the Olympics.
First to score was the USA, with a shot by Schleper and deflection by Hilary Knight.
In their fourth power play of the high intensity game, Canada finally managed to tie up the score as Meghan Agosta-Marciano buried one between the pipes.
The next goal, however, is the one that everyone has been talking about. Hayley Wickenheiser set up a beautiful play with a great scoring chance and managed to skilfully edge the puck past USA's goalie Jessie Vetter. However, the whistle was blown around the time that Wickenheiser was shooting, causing the USA to protest. Ultimately, after being reviewed by the officials, they determined that the goal counted – bringing Canada into the lead for the first time in the game.
With a mere five minutes remaining in the third period, Meghan Agosta-Marciano ensured that there would be no chance of a tie by scoring her second goal of the night.
While the game was definitely not a blow out – both teams showed incredible skill – Canada definitely dominated the third period. USA's Anne Schleper brought the USA closer to tying it up by scoring a goal with about a minute remaining in the game, but Canada maintained their lead and the game ended in a 3-2 victory for the Canadian Women's team.