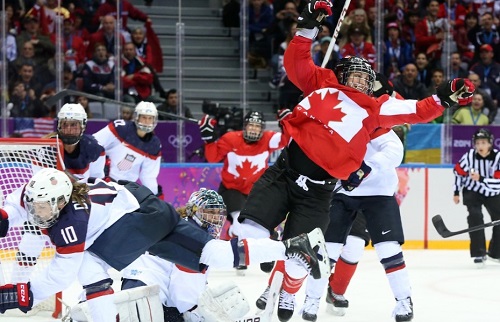 If you didn't watch this game, you should have. It was quite possibly one of the most surprising and exciting women's hockey games played, ever. After facing a potential 2-0 shut out, Canada made an incredible comeback and secured the gold medal against the US women's team – Canada's fourth consecutive Olympic gold.
The USA essentially dominated the game for the most part – they had a great defense, they were aggressive on the puck, and they were doing all the right things. Their seemingly sure-thing 2-0 lead wavered with mere minutes left in play, as a shot on an abandoned net (Canada had benched Shannon Szabados in favor of an extra attacker) hit the post.
"We had the game in hand. When that puck goes down the ice and hits the post… that could have been the game right there," USA's coach Katey Stone said.
Canada was determined to continue their amazing Olympic gold medal streak, and didn't give up, even when a two goal lead made it seem hopeless.
With about three minutes remaining, Brianne Jenner got Canada's first goal of the night, bringing the score to 2-1. "It's the hockey gods, I guess," Jenner happily interviewed after the game.
With less than a minute in regulation remaining, Marie-Philip Poulin got Canada's second goal of the game and tied the score up, courtesy of American goalie Jessie Vetter who mistakenly manoeuvered the puck onto Poulin's stick.
"I thought I had deflected it away from the slot," Vetter said, "I thought I did – but she buried it."
Poulin got a second chance to shine 8:10 into overtime, as she buried another goal and brought Canada into the lead for the first time in the game – and when it really counted.
In a game that most had assumed was all but a guaranteed win for the USA, Canada made a comeback and in front of over 10,000 fans in Sochi and millions watching at home, pulled out the win.
"It's the best feeling ever," Poulin interviewed, "it's like a dream come true. Now we know what we worked all year for."
Women's hockey gets subordinated to men's hockey a lot, but this game definitely showed that the women can bring a thrilling, unexpected, exciting game.