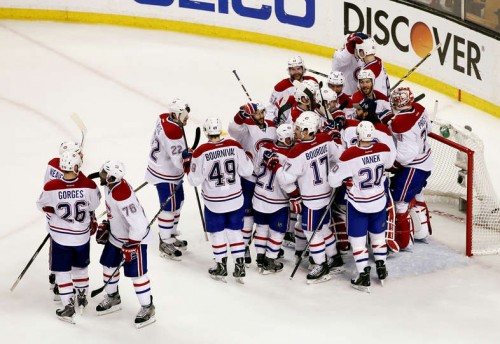 "I can't wait for the crowd, the noise, the energy in the building," PK Subban said after game six. "I can't wait to take that all away from them."
And that is exactly what the Montreal Canadiens did. They silenced the bear; the Boston Bruins. The team that was supposed to win in seven games. And they did it in spectacular fashion.
What made Boston a favourite to win, more than anything else, was their ability to force teams to play a Bruins game. In game six and seven, when all was on the line for Montreal, Boston failed at doing that. Instead of the hard hitting, net crashing game the Bruins wanted, Montreal dictated the play with speed and passing.
And the Bruins couldn't keep up.
That speed and skill saw the Habs go up 1-0 less than three minutes into the game. One of the three important players Montreal added at the deadline, Dale Weise, tapped in a perfect pass from playoff hero Daniel Briere.
Montreal was outshot by Boston in all three periods, but they took advantage of their opportunities. Max Pacioretty, after finally breaking a slump in game six, gave the Habs a two goal lead in the second.
And when Boston got one late in the second, Montreal wasn't discouraged. They faced a lot of shots, but all four lines played a sound defensive game by pressuring the Bruins into mistakes and keep the puck on the outside of the defensive zone.
Rookie Michael Bournival spent multiple shifts pinning the Habs in their own zone, almost on his own. Josh Gorges blocked four shots while Alexei Emelin threw seven hits, contributing in ways that don't show up on the score board.
But in the end, it was down to Carey Price and he showed up big time. With over 29 saves, he was much busier than his counterpart Tuukka Rask. But he was also calmer, more collected. Just look at this save below.
His rebound control was good, his puck handling was great and his ability to see past screens was near perfect. The only goal that beat him was deflected and when Briere made it 3-1 late, it was clear the Bruins weren't going to beat him twice.
Montreal is now halfway to the Cup and the New York Rangers won't be a push over. But beating the Bruins was the biggest road block. This series taught Montreal how to win against anyone. If they continue to play like this, winning it all is not out of the question.
"We just beat the best team in the league," Head Coach Michel Therrien said after the game.
They aren't the best anymore.