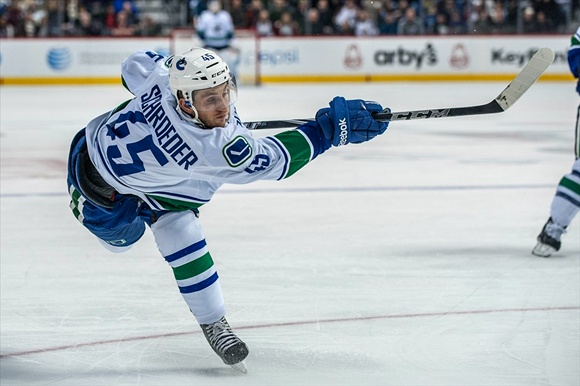 The Canucks last week reloaded on depth by re-signing Dale Weise, Jordan Schroeder and Yann Sauve to new deals. All three players were RFA's and avoided arbitration. They also announced last week they signed center Zach Hamill and left winger Colin Stuart to new deals with the club.
Schroeder split the season last year with the Chicago Wolves and the Vancouver Canucks, recording 12 goals and 33 points with the Wolves and 3 goals, 9 points with the Canucks. Schroeder provided tons of depth for the Canucks last season; he bounced from the 4th line to the 2nd line all season with the club.
Weise recorded 6 points last season in 40 games and recorded 43 penalty minutes with the club. Weise will have something to prove next season if he would like to stay on the Canucks roster after having a down season last year.
Sauve split last season with the Chicago Wolves and the ECHL Kalamazoo Wings. Sauve added two assists in 10 games last season with the Wolves and added 19 points and 40 penalty minutes with the Kalamazoo Wings.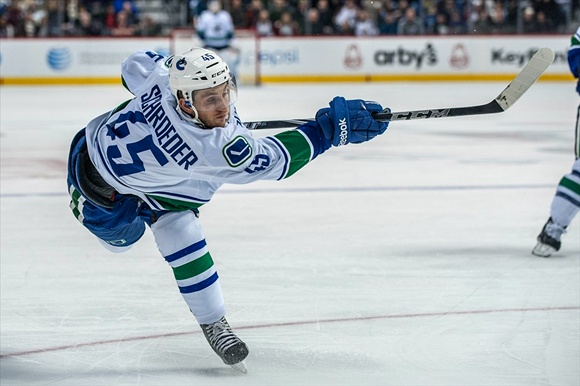 Hamill last year split the season with the San Antonio Rampage (5-13-18 in 26 gp), Hershey Bears (11-11-22 in 40 gp), and Milwaukee Admirals (3-1-4 in 4 gp). Hamill was originally selected 8th overall in the 2007 entry draft by the Boston Bruins. Hamill will provide lots of depth for the Canucks this season and will provide depth for their AHL team, Utica Comets.
Stuart who played for the Iserlohn Roosters last season collected 21 points and 35 penalty minutes in 45 games played. Stuart has recorded 13 points in 56 NHL games in his career with the Atlanta Thrashers and Buffalo Sabres. Stuart was originally selected 135th overall in the 2011 NHL Entry Draft.