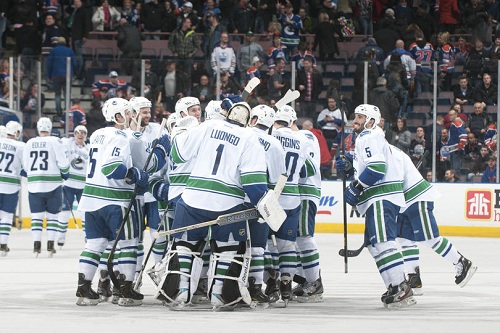 Chris Tanev scored the game winner and his first NHL goal in OT with 19.3 clicks on the clock to give the Canucks another win and a season high 3 game winning streak Monday night. It took some Sedin magic for the goal to come to life, but Tanev made no mistake once he got the puck on his stick as he wrist it home with fewer than 20 seconds to go in Overtime.
It looked as if the Canucks hopes of a 3 game winning streak were going to be dashed in Overtime once Taylor Hall was awarded with a penalty shot, but Luongo stood his ground on the shot and made the huge save to keep the Canucks in the game.
With just a little more than two minutes to go in regulation, the Oilers were holding onto a 2-1 lead, but Kevin Bieksa came to life after playing a not so good game and scored off a long shot that beat Dubnyk stick side to send the game to Overtime (EVERYBODY TAKE A DRINK.) Jannik Hansen also scored his 1st of the year to help the Canucks win and extend their lead atop the Northwest Division at 5-2-2.
The win Monday night also gave some revenge to the Canucks after losing an embarrassing game against the Edmonton Oilers earlier in the season, 3-2 in a shootout.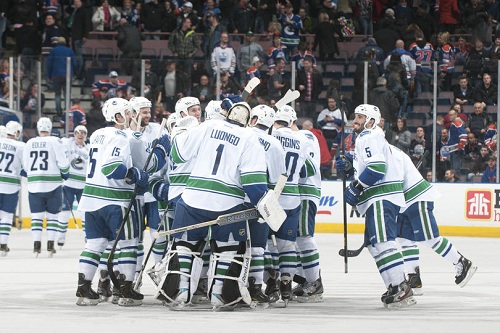 The Canucks definitely didn't have a strong start after falling 2-0 early but they eventually clawed their way back to get the W in a big team effort. Luongo finished with a routine 23 saves for the night and got another W to spark more controversy in Vancouver of who should start next in net? Maybe Alain Vigneault will flip his coin to find out who gets the next start?
The Team will travel to Minnesota next and will play against the Wild this Thursday in their first meeting of the season.