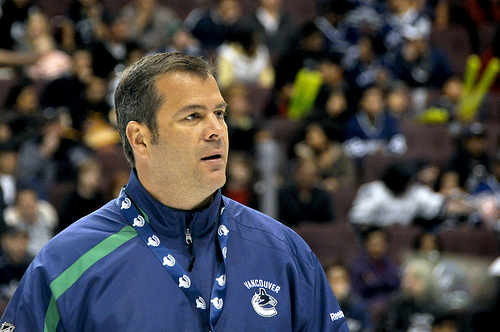 It was just two years ago the Vancouver Canucks and Alain Vigneault went on a record setting march to the Stanley Cup Finals, and nearly beat the Boston Bruins. Two years later and two dismal playoff performances later, Alain Vigneault and his coaching staff have been handed there walking papers. Louie Jean of TVA Sports broke the news at 12:33 PM Wednesday afternoon tweeting that Rick Bowness, Newell Browne and Alain Vigneault have all been fired, about 45 minutes later, it was confirmed and at 3:30 PM it was made official by Mike Gillis, the general manager of the Vancouver Canucks via Press Conference.
Now you can start playing the blame game and say Gillis should've been the one that got fired and not Vigneault but in the end after two dismal playoff appearances since the 2011 Stanley Cup Finals, one of them has to take the fault, and for now it's Alain Vigneault who will take the fault. In my opinion I think this is great news for the Canucks and the right choice, although Vigneault is the franchise's best coach and bless his soul, the team needs a new voice, and someone to kick them in the ass when they're down and Vigneault wouldn't do that.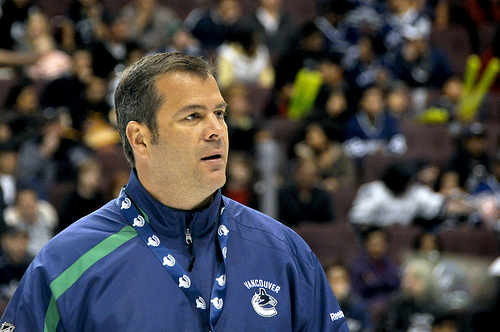 Vigneault in my opinion was fired a year too late, after the dismal performance against the 8th seeded Los Angeles Kings in the playoffs, he should've been fired then and he wasn't. Could you point the blame at Gillis then? Maybe you could've.
The Former Canucks coach should have nothing to worry about; he was a very successful coach during his tenure in Vancouver and should have no issue finding a place to work. He accumulated a 313-170-57 record but a subpar 33-32 record in the playoffs, making him the most successful coach in Vancouver Canucks history.
Now who do the Vancouver Canucks go after as their new head coach?
Lindy Ruff, that's who!
Is he a long term answer? No. But short term, I believe Lindy Ruff will take this team in the right direction. Given his rich amount of NHL head coaching experience and the success he has achieved at this level, the Canucks should be keeping Ruff on the short list of candidates they will be calling.
When the Buffalo Sabres fired Lindy Ruff in February, Ruff's 571 wins were the most among active coaches.
Ruff also has lots of experience dealing with star players and understands what it's like to be under pressure to get results in a market like Vancouver.
Long story short, the Canucks need to get tougher and more physical to reach the Stanley Cup final again, and with Lindy Ruff's style of play, the Canucks could likely achieve that goal with Ruff behind the bench.
More changes are yet to come for this Canucks team, and everyone needs to embrace it one step at a time. A new look could re-energize this team again and send them back to the Stanley Cup Finals.
Love Reading About Hockey?

Subscribe to keep up-to-date with the latest and most interesting hockey news!
| | |
| --- | --- |
| | We hate spam just as much as you |