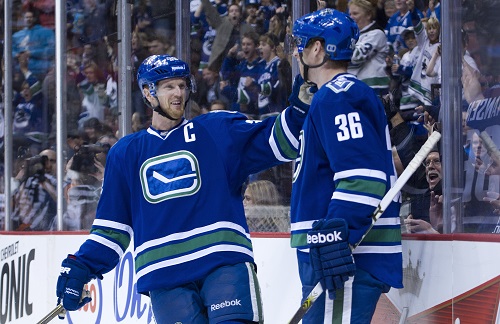 The Vancouver Canucks had been waiting for a week or so for their first victim of the playoffs, and finally on Saturday night, the San Jose Sharks clinched the sixth seed and will play the Canucks in the first round of the playoffs. The Canucks have enjoyed the usual successful season; they won their fifth straight Northwest Division led by the talented Sedin Twins. I am going to break down the series through some weaknesses and strengths from both teams.
The Canucks have been playing exceptionally well at home finishing their last nine games at home with an 8-1 record while holding their opponents to just 10 goals. The penalty killing has also improved killing the past 40 power plays.
The Sharks on the other hand have been unbeatable at home going 17-2-5 at home and outscored their opponents 73-49. They also lead the Western Conference with 53.4% success rate in the faceoff circle.
A weakness for the Canucks this season has been their third line and will continue to be a problem heading into the playoffs. Coach Alain Vigneault will have to decide if Derek Roy and Ryan Kesler will play on the same line or put Roy on the 3rd line, or possibly use Maxim Lapierre or Andrew Ebbett as their third line option. Unless they choose to put in Jordan Schroeder or one of the black aces that was called up from Chicago, what can AV do? Faceoffs has been another problem with the Canucks and going into the post season against the hottest faceoff team in the West, you would think AV will have an idea or something up his sleeve; the Canucks were mauled by the sharks in the circle, winning just 37% of the draws.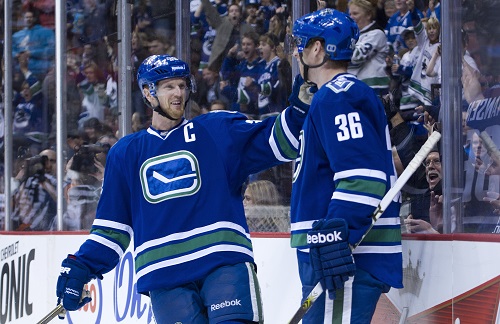 The Sharks also have a bit of a predicament. They can't find offense beyond their "big four" consisting of Joe Thornton, Patrick Marleau, Joe Pavelski and Logan Couture. If the Canucks shut those four down, this could be a very tough series for the Sharks if they want offense. It also doesn't help that their a lousy road team with only 8 victories for the season and also they gave up considerable size during the season by trading away Ryane Clowe, Douglas Murray, and Michal Handzus.
For the Canucks to win, they will need their hot power play to continue being hot (so feed Garrison at the point guys **HINT**) and will also hope for depth scoring from Ryan Kesler, Chris Higgins and co. Sharks on the other hand if they want to win, score first; the Canucks haven't been a team to come back from deficits this season.