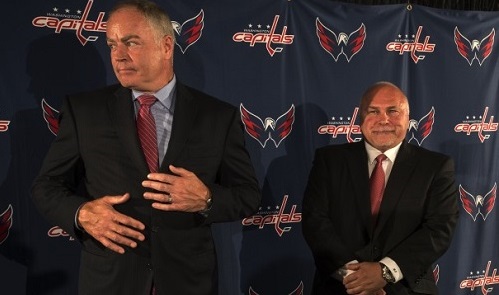 The Washington Capitals hired head coach Barry Trotz and promoted Brian MacLennan to General Manager. Rumors of Trotz hire started early last week. The Capitals announced the hire, and promotion on Monday, May 26th.
The Capitals opted to hire a coach with NHL experience such as Trotz who coached the Nashville Predators since their inaugural season in 1998-1999. Trotz was welcomed back to the Capitals organization, having coached for them before Nashville. Trotz will have plenty of offensive weapons to work with, the Nashville single season goal record is 33, Alex Ovechkin scored 32, his lowest, in the 48 game lockout shortened season in 2013.
"I am very excited to join the Washington Capitals and want to thank Ted Leonsis, Dick Patrick and Brian MacLellan for this opportunity," Trotz said. "This is a great organization with a strong foundation and a tremendous fan base. I look forward to working with this group of talented players and the quality front office staff this team has assembled."
The Capitals also opted to stay in house with their GM hire, promoting assistant GM Brian MacLennan. MacLennan has been with the Capitals since 2000, serving as assistant GM for the last seven years of George McPhee's seventeen year tender.
MacLennan was an interesting hire to say the least. He was only recently promoted to assistant GM.The Capitals were rumored to be interested in ex Penguin GM Ray Shero, who served as assistant GM in Nashville before taking the job at the Penguins.