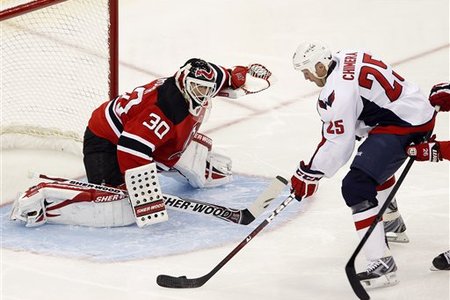 The Washington Capitals will finish their back to back games at home today against Metropolitan division rivals, the New Jersey Devils. Friday the Capitals beat the Carolina Hurricanes 4-2 to improve to 19-13-3 on the season which is good for second in the division. New Jersey also played on Friday but suffered a 3-2 overtime loss to the Anaheim Ducks making their record 14-15-7, good for 5th in the division.
In Capitals coach, Adam Oates, postgame interview when asked about getting the two points in overtime he said "It obviously helps. We just watched New Jersey play in overtime [on Friday against Anaheim]. Every little minute helps. We were short a man there and a lot of guys played minutes. Every second counts. The fatigue factor is obviously very important."
The Capitals may be without winger Marcus Johansson who suffered a lower body injury in the second period of last night's game. Personally, I will try to hold back to tears if he isn't on the ice tonight. The Swede has a career high five game point streak. Mojo has been named a game time decision per Adam Vingan. They will also still be without Michael Latta and Brooks Laich, however all three players were on the ice for the Capitals morning skate.
Marcus Johansson and the starting goaltender are game-time decisions. #Caps

— Adam Vingan (@AdamVingan) December 21, 2013
Since both teams played last night we are likely to see a different starting goalie on each end of the ice. Philipp Grubauer played last night for the Capitals and he was also the only goalie not on the ice for the morning skate today. I expect to see Grubauer again tonight between the pipes but wouldn't be surprised to see Braden Holtby get the possible nod. For the Devils, Corey Schneider played in last night's overtime loss so look for Martin Broduer to get the start.
Broduer has a career 39-17 record with a 2.29 GAA against Washington. Holtby is 1-2 in his career with a 3.03 GAA against New Jersey. Grubauer has never faced the Devils in his career.
Fun Fact: The coffee I drank while writing this is from Gavle, Sweden which is Nick Backstrom's hometown.