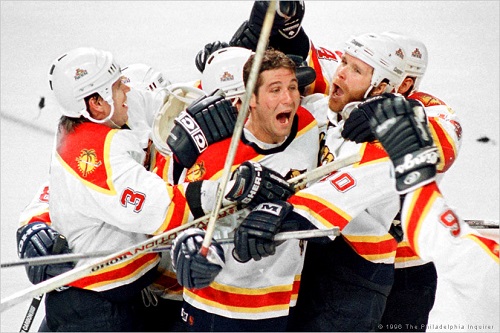 Having missed 83 of the Panthers' last 89 games (in other words, a very long time), defenseman Ed Jovanovski appears ready for game action; cleared by medical staff and activated off of injured reserve, Jovocop is slated for a cameo during Saturday's tilt against the visiting Nashville Predators (per the Sun Sentinel). Jovanovski, a beneficiary of a surgical procedure known as hip resurfacing (hip replacement without the, you know, replacement), aims to lead the Cats into 2014.
Not counting recent IR additions Erik Gudbranson and Dylan Olsen, the Panthers currently hold seven defensemen on the active roster; human staple-gun Alex Petrovic and veteran Mike Mottau figure as odd-men-out given the current situation. Upon reactivation of the aforementioned pairing of Gudbranson and Olsen, a logjam may come to pass. Even with the reassignment of Petrovic and Mottau (assuming they're given the slip), the Cats return to their current seven-man defensive core; somebody's going to be the odd man out.
Who'll be watching from the press box? Beats the hell out of me. Weather at nine.