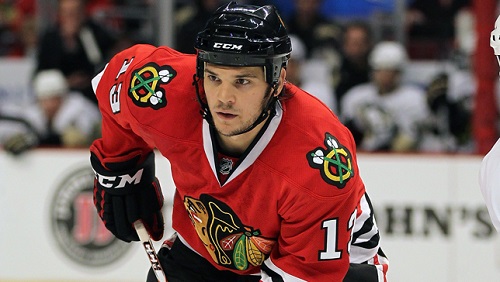 Many Blackhawk fans are a little more relieved this post-season now that Daniel Carcillo is no longer donning a Chicago jersey. The forward with little playing time this past season spent a Sunday with the Stanley Cup. Then found himself on a plane headed to a new franchise on Tuesday.
Blackhawks General Manager, Stan Bowman, traded Carcillo to the Los Angeles Kings for a conditional pick in the 2015 draft. While the move isn't groundbreaking, it's a big move for Chicago.
Perhaps the biggest perk of the trade was the leg-room it gave Chicago in the salary cap. Carcillo's trade gave the Blackhawks $825,000 in space. That's a big number for a player who missed a lot of games over the past two seasons due to a knee injury.
The pick in 2015 will come in either the fifth or sixth rounds, depending on whether Carcillo will play in 40 or more games for the Kings.
That may be a high benchmark for Carcillo. His right knee sprain on the first game of the season allowed Brandon Saad to enter Chicago's lineup. Carcillo underwent knee surgery after that, which gave Andrew Shaw his shot at the NHL. Both Saad and Shaw will be back with Chicago next season, and have become fan-favorites.
Though, Carcillo did have his positives. Occasionally he would spark some energy on the ice, through some grit around or make the locker room more enjoyable.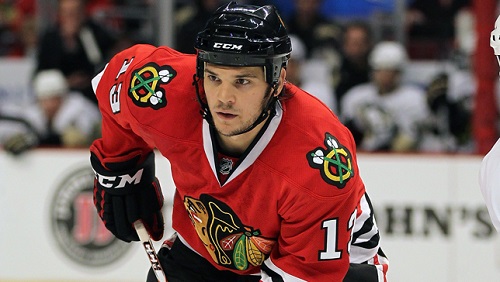 But other than that, a lot of Chicago fans are happy with the move.
With Carcillo gone, there are a few new names being added to Chicago's roster. Drew LeBlanc, Theo Peckham and Michael Kostka will all be in the Blackhawks organization. While these guys will spend most of their time with the Rockford IceHogs, it gives the Blackhawks options for the future.
LeBlanc is the bigger of the names, as he is the Hobey Baker Award winner and a standout in college play. Kostka has done well in the AHL already and has spent some time with the Toronto Maple Leafs. So he does have some NHL experience. Peckham had some injury issues with the Edmonton Oilers last year, but he's a bigger guy who isn't afraid to fight.
None of these moves are game-changers for Chicago, but moves made to give the Blackhawks options later on down the road.