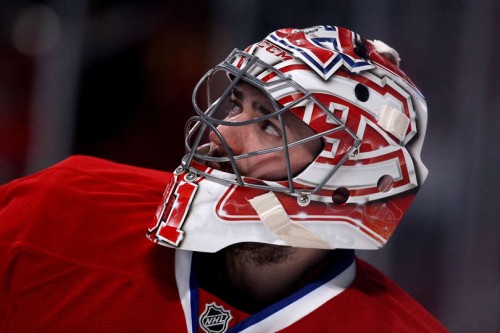 Montreal Canadiens Head Coach Michel Therrien announced after the team's morning skate today that goaltender Carey Price will miss the remainder of their series against the New York Rangers with a leg injury.
"Carey Price will not be available tonight, nor for the rest of that series"-Michel Therrien

— Canadiens Montréal (@CanadiensMTL) May 19, 2014
Price suffered the injury during the second period of game one when Rangers forward Chris Kreider slid skate first into him. Price stayed down for a moment on the play but remained in the game for the final 16 minutes of the period. He was replaced to start the third by Peter Budaj. The Rangers would go on to win 7-2, scoring three on Budaj.
"We've lost our best player, but we've faced adversity this year already," Therrien said. He added that he knows who is starting game two tonight but wouldn't say who. Budaj or Dustin Tokarski are options but both are a significant drop off from Price.
The loss of Price is monumental for the Canadiens. He was easily their MVP of the playoffs so far, with a 2.35 goals-against average and a .919 save percentage. His loss will require a complete team effort to not only shut down the fast Ranger squad but somehow score some hoals on Henrik Lundqvist too.
We will see tonight who gets the call to replace Price and if the Habs can respond to this dramatic turn of events.