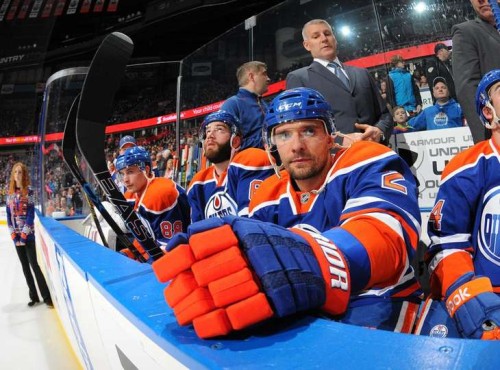 The Oilers came out of the Christmas break facing one of the most important stretches of their season with 5 games against Pacific division opponents. They came out flat in this stretch going 1-3-1 all but eliminating their hope of making the playoffs by getting the 3rd spot in the Pacific. Somehow, with the help of a 1-0 OT win over the Carolina Hurricanes, today the Oilers find themselves 4 points behind 3rd place Vancouver for a playoff spot. However, the teams between Edmonton and Vancouver: Calgary, Anaheim and San Jose, all have games in hand on the Oilers, making that 4 point gap far greater to overcome.
At the halfway point in the season, the Oilers are 17-21-3, good for 37 points and 0.451 point percentage. I had hoped the Oilers would be on a 0.524 point percentage pace. This would leave them at 86 points, likely out of the playoffs, but showing a major improvement. Their current 0.451 point percentage is an improvement over last year and somehow has them still in the playoff fight, but the Oilers can't finish last in their division. Finishing last would be a major disappointment considering the weakness of their division.
The good news for the Edmonton Oilers is that they can definitely improve on their current pace. Edmonton has lost the most man games to injury so far this year (source: mangameslost.com) and they have been to significant players. McDavid, Eberle, Klefbom, Yakupov and Schultz all have missed significant time due to injury. When McDavid and Yakupov come back the Oilers will finally be able to see the full strength of their forward depth. This is important as it will take significant minutes away from bottom six NHL players playing more than they should on this current roster. Probably more important is getting Klefbom back, without Klefbom playing top pairing minutes on this team, their defense corps is significantly weaker than it is to start.
The Edmonton Oilers may not make the playoffs, but with imminent returns of impact players the Edmonton Oilers should be an interesting team to watch. They are still playing meaningful games and with the full team intact the Oilers could be a dark horse to move up the standings.
Quick shots
After the Ryan Johansen for Seth Jones swap occurred there was lots of talk that took place in Edmonton saying Chiarelli should have tried harder to trade Ryan Nugent-Hopkins for Seth Jones. Firstly, I think Nashville preferred Johansen for his more natural goal scoring ability and size. Secondly, I think trading Nugent-Hopkins for Jones would have been a mistake. Jones could very well turn into the best player of the three as an impact #1 top right shot defenseman but the Oilers need defense help now. Not a maybe, but an actual veteran impact defenseman now.
Nugent-Hopkins does more than people realize on this team; media have been on him for not producing enough this year as a supposed #1 center in this league. He is on pace again for 56 points while being tasked with going against the other team's top players, especially on home ice.
There's been discussion on whether McLellan will run a lineup similar to what he did in San Jose when McDavid returns, which is to overload the top 2 lines with talent. Something that might look like:
Hall – RNH – Draisaitl
Pouliot – McDavid – Eberle
The problem with this is that it puts two right wingers in Teddy Purcell and Nail Yakupov together on the 3rd line, with another RW in newly acquired Zack Kassian possibly also in the mix coming up to Edmonton. I think the Oilers should at least try to run three scoring lines which would entail this:
Hall – Draisaitl – Purcell
Pouliot – McDavid – Yakupov
Hendricks – RNH – Eberle
I think Eberle could spend some time on McDavid's wing to see what offensive chemistry those two have together.
I like the Zack Kassian trade as it is a low risk move acquiring a very useful player who has big size and can play with skill for an expiring contract in Ben Scrivens. Kassian is turning his life around and has a second chance with the Oilers and I wish him the best in doing so.
I think once the Oilers are healthy and Chiarelli sees all his pieces playing together, decisions will be made and some players could be shipped out at the trade deadline, namely Purcell and Schultz. Purcell mainly as a veteran skill rental for a playoff team and Schultz just to give a team to try him out for some 20 games to see if they would tend a qualifying offer to him going forward.