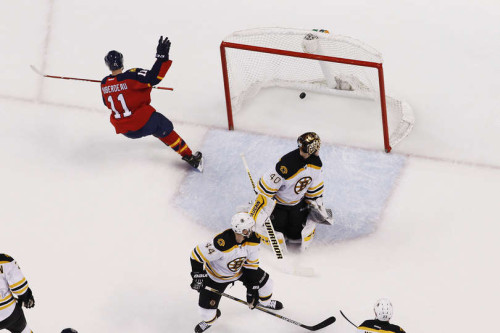 *Disclaimer-There's toooooooooooooooootally no bias in this article, dudes. Like, none. At all. Whatsoever. Come on, now.*
I'm not sure if quoting a noted Bruins fan here will evoke some sort of wrath from the hockey gods, but ahh, what the hell? It's not like I'm getting paid or anything. To twist a quote of Happy Gilmore's, noted headcase and exemplar of mine: "SUCK MY LILY-WHITE ASS, BOSTON" followed by a string of profanity that no amount of holy water could cleanse the stain of.
The Florida Panthers did the Eastern Conference a total solid yesterday, knocking off the Boston Bruins at the BB&T Center by a final score of four goals to two. On the strength of a first-star performance by Jaromir Jagr, the Cats downed the B's with a three-goal third period, springing a leak in Tuukka Rask's net and seriously dashing Boston's playoff hopes. Logging his 401st career NHL win, Roberto Luongo-an international man of mystery known to some as "strombone1"-denied 34 of 36 shots en route to tying Chris Osgood for the 10th most NHL wins all-time. People say revenge is a dish best served cold, and typically, I'd agree; unless, of course, said retribution can be had at the hockey sticks of crazed man-children hell-bent on seeking reprisal on a team who did the very same deed to them not many moons ago. I'm about as salty right now as a super-sized Big Mac combo from McDank's, but MAN, THAT WAS AWESOME.
Further elaborating on the details of that "solid", the Cats' victory-while getting them no nearer to the postseason-came as good tidings to a number of teams vying for a playoff berth. With Brad Boyes' game-winning tally, the New York Islanders-inactive Thursday night-booked their spot in the Stanley Cup Playoffs. Moreover, on a night where Jagr eclipsed Ron Francis for fourth place on the NHL's all-time leading scorers list, the Panthers gave the Ottawa Senators and Pittsburgh Penguins some breathing room; Ottawa now sits two points clear of Boston for the first Wild Card spot, with Pittsburgh teetering a point ahead of the drop with a game in hand. The Sens, controlling their own fate, are set to do battle against the Philadelphia Flyers in a deciding tilt on the afternoon of the eleventh. Boston squares off against much stiffer competition in the form of the Tampa Bay Lightning-the team that actually cast the Cats out of the playoff picture-that same evening, and a very large part of me hopes that Steven Stamkos gives Claude Julien's boys a giant Chicago Sunroof, yanawhamean.
Also scoring for the Panthers, Aleksander Barkov, Jonathan Huberdeau and Jimmy Hayes all managed to find the goal column on the night, with Aaron Ekblad, Brian Campbell, Dave Bolland and Willie Mitchell posting assists. Notching a helper on Hayes' marker, Jussi Jokinen recorded his 300th career NHL assist, capping a night of milestones for a Panthers' squad that turned heads this year.
Nobody cares who scored for Boston. GO HOME, YOU DON'T EVEN GO HERE.
Love Reading About Hockey?

Subscribe to keep up-to-date with the latest and most interesting hockey news!
| | |
| --- | --- |
| | We hate spam just as much as you |