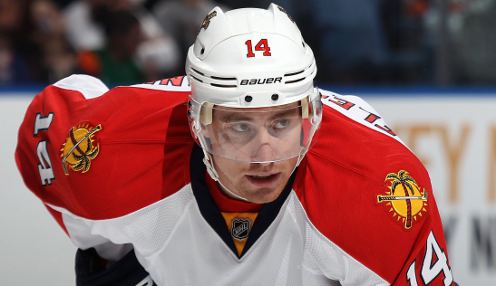 A Czech comes in, a Czech moves out. It's like osmosis or something…Yeah, that's totally how osmosis works.
Mere minutes before the Florida Panthers took the ice against the visiting Buffalo Sabres, General Manager Dale Tallon was at it again, offloading yet another expiring contract in anticipation of Monday's impending trade deadline. Belonging to Tomas Fleischmann, said contract was shipped in a two-for-one deal to the Anaheim Ducks, bagging a 2015 third-round draft pick and 34-year old Dany Heatley in return.
Banding once more with former coach Bruce Boudreau, "Flash" brings the type of offensive depth that Stanley Cup contenders such as the Ducks covet; having shown glimmers of his former self at times this season, the Western Conference squad hopes to have acquired the more vintage Fleischmann, one that netted 23 goals and 51 points in 2009-2010 with the Boudreau-led Washington Capitals. Joining a roster overrun with natural left-wingers (seven out of a total 16 forwards, per the Ducks official website), Fleischmann's acquisition figures to spark some intrasquad competition, the subsequent intensity an invaluable asset to a team hoping to knock the monkey off of it's back and make a deep postseason run. Ending at 262 games, the 6'1″ native of Koprivnice closed his Panther career with 145 points, playing a vital role in the team's Cinderella run to the 2011-2012 Southeast Division pennant.
The real return for the Cats materializes in the form of that third-round pick. Replacing the 2015 second-rounder that was sent to New Jersey in the Jaromir Jagr trade, Tallon's latest addition restocks the coffers and provides more ammunition to pull the trigger on yet another deadline deal. Heatley's inclusion is purely ancillary-per ESPN.com's Pierre LeBrun, the former Calder Trophy winner and four-time All Star's $1,000,000 contract needed to clear the books in order for the Ducks to take on Flesichmann and his $4.5 million cap hit. Reporting directly to the AHL's San Antonio Rampage, Heatley's NHL career looks to be all but over; the two-time 50-goal scorer-signed to a one-year deal this past summer-went pointless in six NHL games before being assigned to the Norfolk Admirals, where he posted an underwhelming seven points off of two goals in 25 minor league games. With a slew of prospects primed to jump to The Show, whatever chance the Canadian national had to crack the Panthers' roster was buried before it was even born.
In other news, BRANDON PIRRI IS ALEXANDER F***ING OVECHKIN. Uhh, yeah, that's pretty much all I've got. Carry on.