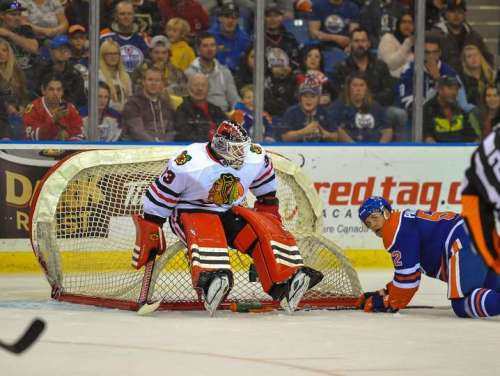 As fans prepare for a new NHL season, Blackhawks fans are starting to see some familiar rumors. For instance, the multi-source theory that Chicago is the favorite to win the Cup again this year. Sports Illustrated is calling it Chicago's way, though they did that last year too. Even still, it took a Game 7 Overtime to squash that prediction. Maybe they've got it right this year.
The two biggest headlines around the Chicago camp this upcoming season are the attempt to fit under the salary cap and the arrival of Teuvo Teravainen. Let's start with the cap problems.
Chicago's training camp has done a solid job of weeding out the prospects that could still benefit from some time in the American Hockey League's, Rockford IceHogs, and the Blackhawks have sent some hopefuls down for more ice-time. Though, there are still some large contracts that may need thinning in order to make room.
Patrick Sharp's name has been dropped as a potential trade. While that may upset many who champion him as a fan-favorite, Sharp can and will get a good deal from teams around the league interested in a veteran winner who can help form an offense and lead in the locker room. There is enough of that in Chicago, while other teams will be willing to pay big for the luxury.
Johnny Oduya has been rumored to be on the cutting block as well. And while the older veteran may be considered "past his prime," he brings solid leadership and reliability to the locker room full of up and coming prospects and youngsters.
The real decision boils down to whether Chicago wants veteran leadership in the room now, or do they want to make room for the prospects coming up.
Speaking of prospects, Teuvo-time is upon us. And while the hype around the newbie is exciting, it's important to remember that he's still a rookie. He will have those rookie jitters and stumbles. The raw talent is there, there's no question. But hopes can't be allowed to get too high, or Teravainen won't be able to live up to expectations when he does perform, dare we say, like a rookie.
Aside from the peripheral moves, the Blackhawks are right where they were last season. In fact, there is a buzz around the team to outperform last year and there is a genuine thirst for the Cup again. Now the team feels they have something to prove, that last year's early departure was a mistake.