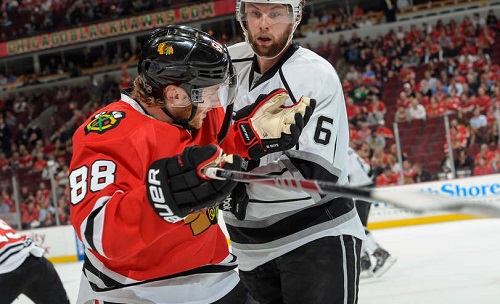 As physical as hockey is, a large chuck of the game is played mentally. Especially in the playoffs.
Yes, it's important to have a physically dominant team. A team that can skate like the wind, stand tall on physical play along the boards and open ice, dominate faceoffs, fore-check hard and back-check harder, and impose tough play on a nightly basis. But all that won't mean much if the team can't get their heads to a place where they can control all those skills.
Chicago didn't have the upper hand on the Los Angles Kings physically at all points of the playoff series, but they were able to stay with the Kings regularly, and occasionally take the upper hand. That was until the Blackhawks broke down mentally.
Los Angeles' 6-2 win in Game 2 broke Chicago's post-season mentality. The Blackhawks became frustrated, angry, disappointed, and frustrated. That can happen in sports. It can happen a lot. Champions know how to control that. Even more-so when the game is on the line, or during the playoffs.
The mental breakdown by Chicago in Game 2 was the first time they've shown any kind of lapse in judgment in the post-season thus far. In fact, it's hard to think of a time when the Blackhawks broke down that badly in the past several seasons. But playoff hockey is a much different kind of intensity and emotions always run high. Winning teams know how to control those reigns.
The result of the Game 2 smashing was felt in Games 3 and 4. Los Angles took the win as a surge of momentum and rode it to two more wins. Chicago felt the frustrations mount every time the Kings scored a goal and responded to Chicago's offensive pushes.
What finally broke the slump for Chicago was the realization that they were the Blackhawks. They've been in hard places before. They've been in the playoffs and Stanley Cup Finals games before.
Once they let go of their frustrations, and mentally controlled their play, the flow of momentum toward Los Angles slowed and started swinging back to Chicago. That control gave Chicago two more wins, and strong momentum heading into a deciding Game 7.