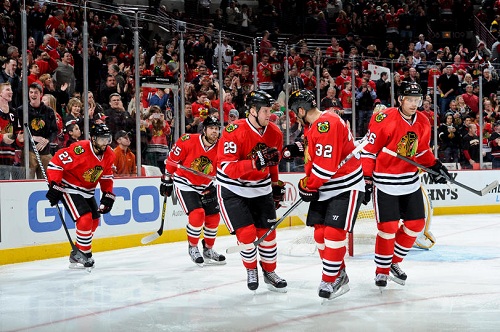 Lately, the Blackhawks have made more moves in their roster than Patrick Kane does on shootouts. But that's common around trade-deadline time in the NHL.
Let's take a quick look at what Chicago has done and where they stand for the remainder of the season.
Probably the biggest acqusition so far this season has been the addition of Michal Handzus. Handzus comes back to Chicago from the San Jose Sharks in exchange for a fourth round draft pick. I say 'back to Chicago' as Handzus is familiar with the Windy City. He played eight games in his 2006-2007 season with the Blackhawks, recording eight points (3G, 5A) before suffering a season-ending knee injury. Handzus is back, and doing what is expected of him so far, taking command of the face-off circle and giving the Blackhawks some experience.
Though Handzus is doing well winning draws, Jonathan Toews is still Commander-in-Chief of the puck drop. He ranks 5th in the NHL with face-off wins and takes the top spot in the Western Conference with 428 wins. As far as face-off win percentage, Toews is 60.8 which is good enough to land him the 2nd place spot in the league.
Jeremy Morin was brought up to the Blackhawks from the Rockford IceHogs and made a quick impression. In his debut against the Detroit Red Wings, Morin scored on his first shift. It was a hard fought, gritty-type goal that is typical of Chicago-style play. Though Morin was sent back down to Rockford after the Detroit game, it wasn't because of his play, which fits right in with the team chemistry. Morin even gave up his number 26 to Hadzus in exchange for number 11.
Morin was sent back down, but it was only to make room for Marion Hossa who came back to Chicago's roster much to the delight of Blackhawks fans. Patrick Sharp still remains on injured reserve, but Jimmy Hayes was sent back down to Rockford, as rumors swirl, to make room for Sharp's return.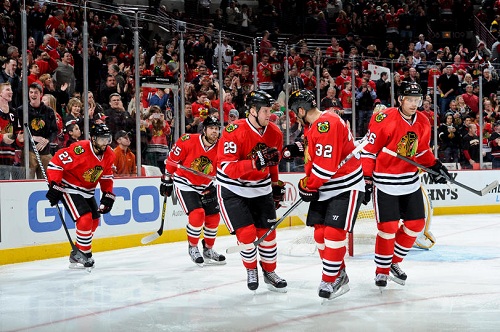 Brandon Bolling is also bouncing between Chicago and Rockford. Steve Montador has also been sent to Rockford, while he and Rostislav Olesz have both been put on waivers. Mark McNeil and Phillip Denault are also new to Rockford's roster.
Chicago made a minor league trade with the Boston Bruins as Maxime Sauve came to Chicago in exchange for Rob Flick. Combined, the two have only a single game of NHL experience. The Blackhawks have also acquired the rights to Kirill Gotovets. The defenseman is a Cornell University Junior, and Chicago picked him up from the Tampa Bay Lightning in exchange for Rockford's Phillippe Paradis.
"We don't want to change our mix, we're looking to add to it," said Chicago General Manager, Stan Bowman. He went on to say that Chicago won't make moves just to shake things up. Every move has a purpose and clearly, Bowman and Co. are planning for the future just as much as they are for the rest of this season.
While some players are moving, some are holding steady. Ray Emery set an NHL record with his 12-0-0 start, before taking the loss to the Anaheim Ducks. Even in that game, Chicago was holding strong until a late third period goal gave the Ducks the lead and the win.
A trend that continues to haunt Chicago. The Blackhawks had the lead over Central Division rivals, the St. Louis Blues, before giving up a late goal to tie the game, before the loss in the shootout.
There are some positives to take away from the St. Louis game though. Toews recorded his 200th career assist, with no sign of slowing down at all, and Brandon Saad picked up a goal. Saad has been able to put the puck in the net in three straight games for Chicago.
While losing to the Blues is a bitter pill for Blackhawks fans to swallow, they may still have the sweet taste of victory on their tongue from the beating Chicago gave Detroit in their last meeting.
The 724th meeting between the two clubs overall, and the third of four this season, was a big win for Chicago. The first three of Chicago's goals came in under 99 seconds, followed by two more just eight seconds apart. Chicago was able to hang the most goals on Detroit than any other team has so far this season despite a pair of obvious blown calls.
Despite it all, Chicago still remains as the top team in the league, and was the first team to clinch a playoff spot.