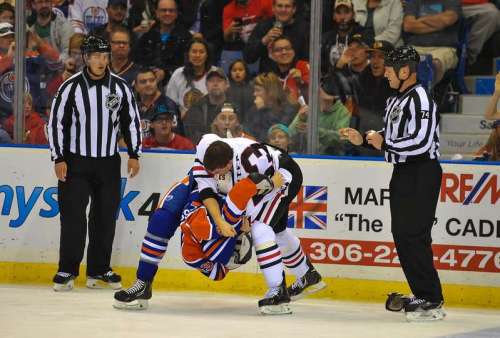 Brandon Mashinter spent the tail end of last season in Rockford, but it's looking more and more like he's holding onto a more permanent place in Chicago.
Joel Quenneville doesn't get questioned often. Nor, should he with the combined winning record and mustache he carries so well. But he seems that the Brandon Bollig-Sized hole is destined to be filled by Mashinter who is still on Chicago's roster this close to the start of the season.
Mashinter, who will quickly, if not already, gain the nickname "Mash," will most likely end up on a fourth line wing, expected to fill the enforcer/tough guy role.
But here's the wrench thrown into the machinery, while in Rockford, "Mash" had 14 points and 14 assists in 47 games. Those aren't Pat Kane numbers, but that does add up to 28 points. Averaging a point every other game. Pretty good for an enforcer. It should also be noted that "Mash" also had 79 penalty minutes in those games, averaging close to a two-minute minor per game.
The question still hangs in the air of whether or not Chicago even needs an enforcer. Ben Smith isn't afraid to throw his weight around along the boards, and Andrew Shaw is as blue-collar as Chicago has ever been. The pictures of Shaw bleeding while hoisting the Cup and standing toe-to-toe with Zdeno Chara in front of the net are visual summaries of Chicago grittiness.
It's unclear if Mashinter will add to that foundation or simply be asked to sugar-coat it as best he can while occasionally be expected to put some points on the score-sheet.
The way the rest of the team is moving, with high speeds and quick scoring, and with the rules of the game allowing for higher goal totals, expect to see Mashinter give up the tough role in exchange for a physical player who will throw assists to the front of the net on the fourth line. The Blackhawks are too much of a fast-moving team to slow down for a player that is strictly an enforcer. Mashinter will have to take notes from Smith and Shaw if he's expecting to have a long career in Chicago.
Love Reading About Hockey?

Subscribe to keep up-to-date with the latest and most interesting hockey news!
| | |
| --- | --- |
| | We hate spam just as much as you |