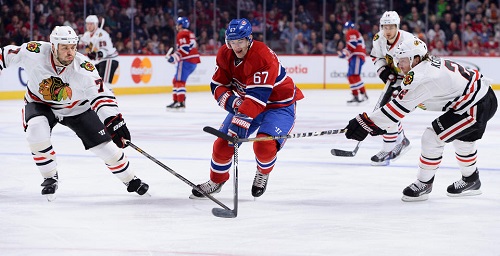 As impressive as it is that the Blackhawks are sending the equivalent of two full lines to Sochi, not everything is roses in Chicago.
Chicago is sending a total of 10 players to the Olympic games, as are the Detroit Red Wings and the St. Louis Blues. The three teams are each sending more than any other NHL team, and while that may be a bragging point for some, it can also be a point of concern.
The added competition can lead to player exhaustion. Playing for a gold medal, on an international stage, with your home country logo on your chest is a highlight for any professional's career. Every player will be giving it their all, meaning they won't be holding back to save themselves for NHL play.
Patrick Sharp says burnout won't be a concern. "I don't expect a burnout just because we have 10 guys going to the Olympics. I think it's just gonna make us stronger."
Sharp continued, "These are players that show up to training camp every season in great shape, we all care about our jobs and want to get better every season. That's all about being a pro. That's why I think the Hawks have been a good team for a long time. We're always trying to get better as an individual, as a team, and that filters through the team."
But while Sharp's confidence gives some level of reassurance, there's no denying that the Olympics will add stress, both physical and mental, onto players who have to afterwards return to elite competitive hockey. Not to mention the possibility of injuries having an impact.
But even before the Olympics start, the Blackhawks have some issues to address.
Chicago has been able to win games with a big help to their strong offense. But they can't rely on their offense to just outscore everyone in the league. At some point they need to defend their net.
Corey Crawford coming back to the roster will help secure some stability, but as of halfway through the season, the Blackhawks are allowing more goals per game than they did during each of the two seasons they brought home the Stanley Cup. While the offense was good then too, the defense was better. There were a lot of games throughout those championship seasons that Chicago was able to steal with strong defense.
It feels good to win a game with an offense putting six goals in the net every night. It's a different story when the game is 2-1.