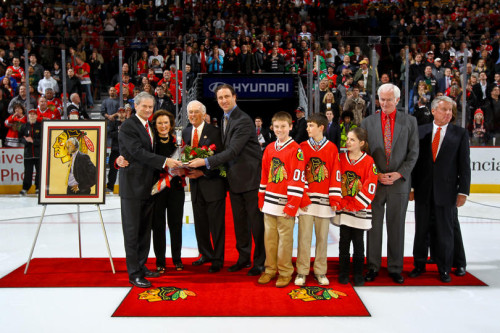 For sports fans, an announcer's voice becomes synonymous with the team itself. If the commentator stays with the team long enough, they can become, in every imagination, the voice of the team's logo.
For the Blackhawks, that voice belongs to Pat Foley. For over three decades the Chicago-suburbs native has uttered the names of countless NHL and Blackhawk stars and given a voice to the speed, enthusiasm, and tradition of Blackhawk hockey.
Starting when he was just 26 years old, Foley earned his spot in the Chicago organization. He spent the first 25 years of his career calling Blackhawk games until there were rough waters during the 2006-2008 seasons.
Rumors of a disagreement with Blackhawks management caused Foley to turn instead to professional hockey in the minor leagues. He called games for the, then, American Hockey League's Chicago Wolves.
In 2006, Foley's contract was renewed with the Blackhawks and he was welcomed back with open arms by fans that dearly missed his voice.
But he would be the first to tell any fan, he didn't make his career as exciting as it has been all alone. He's had some terrific commentary partners.
In the early years of his career, Foley sat alongside some noted former Blackhawks. In the 1981-82 season, Foley had the opportunity to spend time behind the microphone with Blackhawk legend, Keith Magnuson. Later, Foley partnered up with Dale Tallon. Tallon was a former Blackhawk himself and teamed up with Foley to call Blackhawks games from the 1984-85 season all the way until the 1997-98 season.
That's when Foley went to the Wolves, and he sat next to another former Blackhawk, Bill Gardner. Gardner was drafted by Chicago in 1981 and played most of his career with the Blackhawks. Gardner has had some experience commentating Blackhawks games and still calls Chicago-land his home, continuing to work with the Wolves.
After Foley's return to the Blackhawks, he started commentating alongside his current 'par'dner', Ed Olczyk. Another former Blackhawk, Olczyk was inducted into the United States Hockey Hall of Fame in 2013.
Recently, Foley has been recognized by the Blackhawks organization for his contributions to the team and has received Foster Hewitt Memorial Award for hockey broadcasting.
But his trophy case was far from empty before that. Foley earned three separate Emmys, an induction into the Chicagoland Sports Hall of Fame, and a championship with the Chicago Wolves.
So while veteran fans remember his calling "BAAANNNEERRRMAAANNN," and younger fans think of "Kane with a little shake and bake, he comes in, shooting, HAWKS WIN, HAWKS WIN," there's no doubt that if the logo on the chest of every Blackhawk player had a voice, we'd all recognize it instantly.
Love Reading About Hockey?

Subscribe to keep up-to-date with the latest and most interesting hockey news!
| | |
| --- | --- |
| | We hate spam just as much as you |