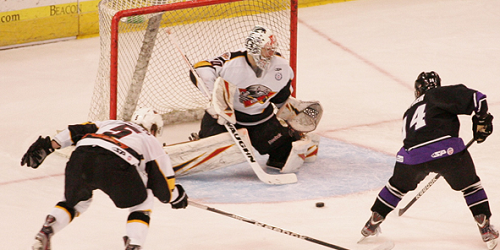 You guys have no idea how happy I am to be writing about this:
Apparently, the Cincinnati Cyclones-the ECHL affiliate of the Florida Panthers-have taken a page from their Eastern Conference neighbors, the Bakersfield Condors. Announced on November 12th, the Cyclones will be hosting their inaugural "Star Wars Night" this upcoming Friday, as they take on the visiting Greenville Road Warriors. Complete with-you guessed it-Star Wars inspired jerseys, the "Clones" will be auctioning off their limited edition threads post-game, raising money to benefit Most Valuable Kids (check them out), an organization that aims to "provide a source of positive inspiration for kids…by offering charitable children's organizations access to professional and collegiate sports and entertainment events."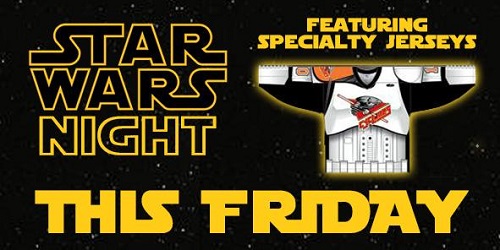 Look. At. It. Stop whatever you're doing for 30 seconds and look at it.
It's almost like the real thing! Except that the Clones can actually, you know, hit the broad-side of a barn. Led by forward Wade Megan's 14 points through 8 games, the Cyclones own a North Division leading 36 Goals-For watermark. The squad also possesses a defense worthy of association the Galactic Empire, allowing only 23 goals through eight contests, good for fourth overall in the league. Putting droids in their place since game one, I see. Palpatine will surely be pleased.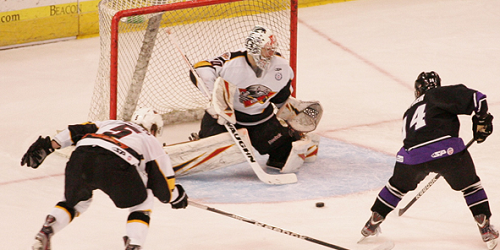 You've got to wonder if this will impose a trickling effect that runs through the organization; what better way to draw fans to the BB&T Center than to dress 24 grown-ass men as Chewbacca and send them out on the ice? With Han Solo pulling the strings behind the bench? The question remains-can they run Kessel in under 12 parsecs?
So get out there, ladies and gents, and support your local hockey club.