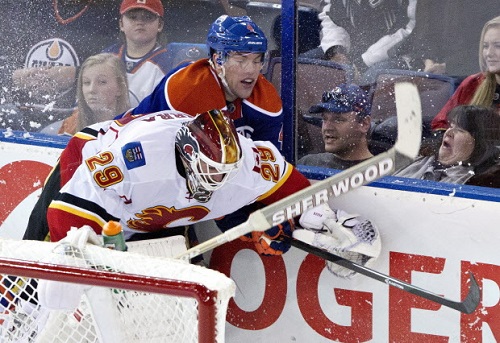 In a post-game press conference after last night's shut out loss, the Edmonton Oilers' Dallas Eakins commented "we have some good offensive players but I don't look at us as a real offensive team."
Oilers fans took – well, offense (sorry! Had to…) – and while I'm always happy to see passion from fans, it's an interesting comment to pick apart.
His reference to the good offensive players likely entails the group of young forwards Taylor Hall, Jordan Eberle, and Ryan Nugent-Hopkins. Though he's a newcomer to the team, I'd also maybe group David Perron with them, because he seems to play a fairly significant role in getting things going on the ice. Perhaps in time Nail Yakupov can be included, but he's really just starting to get out of the rut he fell into so he's not quite there yet.
People have talked a lot about the Oilers' speed, and it's true that when they're good, this is a huge advantage. There are sometimes plays where the forwards absolutely whip around a defender or make a pass so fast it's nearly invisible.
But they're not always good. And after the main line-up of strong forwards, there's no comparably strong second or third line, which I feel would be expected of an offensive team.
I think it's easy to classify them as an offensive team because, to be frank, they are certainly not a defensive one. There are often gaps in the defensive line wide enough for a Zamboni to get through. But the classification of them as an offensive team isn't strictly accurate, especially with the way they've been playing and all the shut outs they've experienced.
It's no secret that the Oilers have been struggling, and that they definitely need to work on improving their play both offensively and defensively. However, in light of Dallas Eakins' declaration that the Oilers aren't an offensive team, I'd be interested in seeing how he would classify them.
Many Oilers fans seem to disagree with his statement, but likewise have spoken of the weakness in their defensive zone, so… if they're not an offensive team and not a defensive team, what kind of team, are they?